The UK's largest providers of housing for older people join forces to develop new homes
The UK's biggest private and affordable retirement housing providers have joined forces to set up a partnership worth at least £125m to development later living homes across all tenures.
Listed developer McCarthy & Stone has signed the deal with Anchor Hanover to deliver an initial 482 homes across five sites, all of which are currently owner by McCarthy & Stone with planning consent.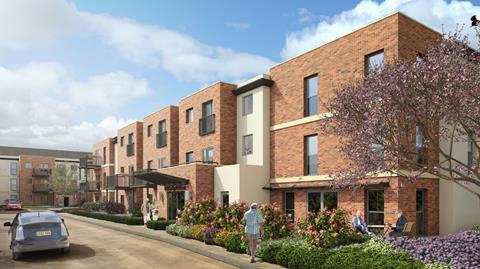 McCarthy & Stone will build out the scheme, with Anchor Hanover paying it £67m to turn 316 of the homes into affordable "Extra Care" apartments, 40% of which will be for rent and 60% for shared ownership.
McCarthy & Stone will take on the remainder of the homes as private retirement living units.
McCarthy & Stone saud the first two of these developments to be delivered, located in Hook, Hampshire and Hinckley, Leicestershire, will be completed later this year, with the next two developments located in Bingley, West Yorkshire, and Standish, Greater Manchester due to commence in early 2021. The final development in Macclesfield, Cheshire will start on site later in 2021.
The deal was welcomed by housing minister Christopher Pincher as a route to delivering more high-quality, affordable retirement properties. He said: "Around one-third of children born in the United Kingdom today can expect to celebrate their hundredth birthday and housing will have an important role to play in ensuring healthy and independent living as our society ages."
The number of people over the age of 65 is expected to grow by 43% in the next two decade, while the number over 85 will nearly double. However, the proportion of elderly people who choose to live in dedicated accommodation is still quite small, with a number of new providers looking to establish a market for private accommodation with additional care services provided.
McCarthy & Stone reported a loss of £25m in the first half of the year, as the covid crisis saw revenues slump by nearly two-thirds to £101m from £281m.
John Tonkiss, chief executive of McCarthy & Stone said the partnership was in addition to the firm's current construction plans and forms part of our strategy to provide greater choice for customers. "It marks an important step in our commitment to address this challenge while providing customers with greater choice and a more affordable product," he said.
Anchor Hanover is the largest operator of affordable housing for older people in the country, housing more than 60,000 people in 54,000 properties across 1,700 sites.
Jane Ashcroft CBE, Chief Executive of Anchor Hanover said: "We have ambitious plans to provide more homes where people love living in later life and to do so more quickly. We're keen to work with a range of partners to meet that demand and support the government's objective of more accessible housing for older people."