Retirement homes group tackles challenging market with more part-exchange deals and a growing rental business 
McCarthy & Stone plans to increase its part-exchange activity and development of rented accommodation as it faces tough market conditions.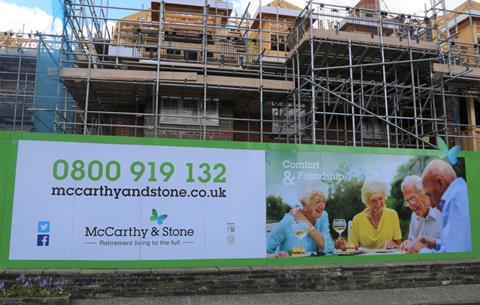 In a trading update ahead of releasing its annual numbers early next year the retirement homes builder said the impact of "challenging" times would be felt in its operating margin, which would be hit by what it called "an ongoing need for increased levels of part-exchange", as well as a lower mix of sales from the South-east.
Back in April this year McCarthy & Stone had said it expected to ramp up its use of part-exchange deals as potential buyers face problems selling their own properties.
And while the second-hand market was proving to be a challenge for the group its move into rental properties was starting to pay off, with multi-tenure options now available at more than 70 developments and 101 rental transactions signed over the course of the year.
John Tonkiss, the group's chief executive, said the group was committed to finding a strategic capital partner to work on expanding its rental offer.
McCarthy & Stone could be looking at a quarter of its units in future being rental properties, such is the level of demand.
The group, which plans to announce its results for the 14 months to the end of October 2019 on 28 January, said turnover for the period was expected to be around £720m, versus £672m for the 12 months to the end of August.
The group shifted its year end back by two months as part of its strategic review, which was launched in September 2018.
Operating profit for the 14-month period was forecast to be within analysts' consensus range of between £64m and £71m, against £67.5m last year.
The group is also aiming to develop some of its homes using volumetric and panelised systems, with work on the first scheme using MMC, in Hexham, in the North-east, expected to start next year.
Tonkiss said: "While the long-term demand for our products and services remains strong, we have continued to experience challenging conditions in the secondary housing market resulting from the ongoing political and economic uncertainty.
"The medium-term economic outlook will depend on how the UK's EU withdrawal is delivered, but our new strategy has positioned us well to deliver a solid trading performance in a difficult market and respond positively when trading conditions improve."