Mark Robinson urges country's next prime minister to ramp up commitment as Homes England figures released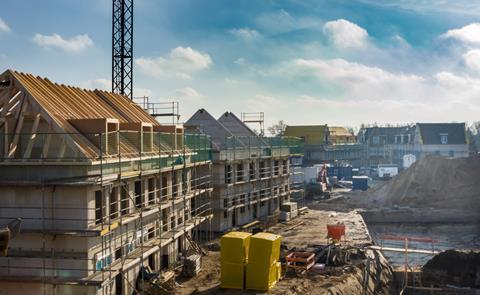 Whoever leads the country following the outcome of the current Tory party leadership battle needs to make genuinely affordable housing a priority, according to Scape Group boss Mark Robinson.
Speaking as the government's housing delivery agency Homes England announced an increase in the number of total affordable home starts, Robinson said local councils needed to be given greater autonomy to build social housing themselves.
"The next prime minister needs to make genuinely affordable housing a priority. For too long the government of today has been distracted by Brexit to the detriment of other essential policy areas," he said.
Robinson argued that housing associations were not building homes for social rent quickly enough and called for local authorities to be given more powers to get on with the job.
"To meet this demand, government must invest at scale in modern methods of construction, which would enable the efficient and effective delivery of new homes," he added.
According to Homes England the number of affordable housing starts in England reached more than 30,000 units in 2018/19, the highest figure since 2014.
Overall starts of homes being constructed under Homes England delivery programmes totalled 45,962, the highest number for nearly a decade.
And at 40,289 total completions were at their highest since 2015.
Homes England said more than a third (37%) of housing starts – 30,563 – were across all ranges of affordable homes, with 17,772 coming under affordable rent, up 4%, and 1,231 being social rented homes, a decrease of 12%.
The picture was less positive for completions, with 4% fewer affordable rent homes finished – 18,895 – and only 961 homes handed over for social rent versus the previous year's 970.
Total affordable housing completions, including shared ownership and intermediate rent, reached 28,710, up 11%.
Homes England's latest figures exclude housing statistics for London, where delivery is managed by the Greater London Assembly.
Homes England chief executive Nick Walkley said latest figures were "positive signs that the delivery of homes, and particularly affordable homes, is on the up.
"However, there is still a huge amount of work to do to make sure this trend continues. We're just getting started and need the sector to join us in our mission to make sure we continue to deliver homes across the country for the people who need them the most".
But Scape's Robinson described the number of homes delivered for social rent coming in at under 1,000 for the fourth consecutive year as "especially concerning".
Over the same period and excluding housing programmes directly managed by the capital's local authorities, the GLA started a total of 14,544 affordable homes in London, up 16% year-on-year. Social rent starts amounted to 3,991, up 42%.
Affordable completions came in at 7,544 in 2018/19, up 41%, while social rent homes completed numbered 1,051, up 230%.