Inspectorate finds proposed development provides enough communal space for residents
A 15-storey co-living scheme from developer Galliard has been passed by the Planning Inspectorate following a four-day public Inquiry.
The Planning Inspectorate ruled that the proposed development in Bath Road, Hounslow, would provide acceptable living conditions for future occupiers, would not adversely affect the character and appearance of the locality, and would provide a suitable housing mix, despite the council raising concerns over all these issues.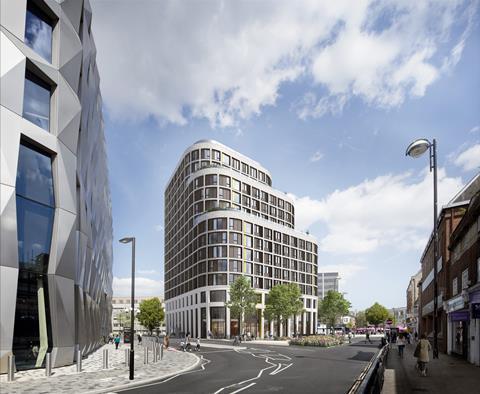 The scheme, developed by Galliard Homes and Princeton and designed by architects LOM, will involve the demolition of existing buildings and the construction of purpose-built living space for 248 people, including communal areas designed to accommodate around 100 people at a time.
The appeal was brought after Hounslow Council failed to determine the planning permission within the required period under the Town and Country Planning Act 1990.
According to the appeal decision notice, had the council made the decision it would have refused permission on the grounds listed above.
See also: Plans lodged for 36 storey co-livng tower in Salford
However, the planning inspectorate said that the London Plan Policy H16, which sets out shared living requirements, contains no minimum space standards for communal areas.
It said the development "would provide more outdoor communal space than other similar developments."
The appeal proposal's height, scale and elevational treatment would also not adversely impact the character and appearance of the locality, the inspectorate said.
It also pointed to the council's own local plan, which outlines a need for shared living. "I consider a need for the development proposed has been identified. I have insufficient evidence to conclude that need is being met in another way, even taking account of the Council's healthy housing land supply position," the inspectorate said.
The decision follows a similar case last year when the Planning Inspectorate deemed plans for a block of 121 co-living flats in Feltham acceptable despite concerns from the local authority about space.
Hounslow Council also initially raised concerns about carbon dioxide emissions, flood risk, air quality and the absence of a legal agreement to mitigate the impacts of development and provide for affordable housing. However, the council was satisfied after extra information was supplied, the appeal decision notice said.
Simon Bird, director at LOM, said: "This is an opportunity to rethink ways of living by innovating and offering alternatives beyond conventional residential models. This approach, in these kinds of locations, is all about creating communities and bring vibrancy to our High Streets at a time when we need to be rethinking what they can be."