Stuart Andrew pledges support for council housebuilding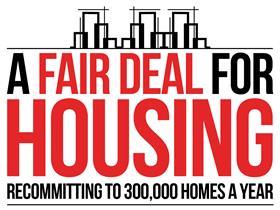 The housing minister has pledged to boost housebuilding but urged against focusing too much attention on the number of new homes delivered.
Stuart Andrew, in an address to the Chartered Institute of Housing annual conference in Manchester yesterday, said "numbers will climb back up in the coming months and years" from the 216,000 net additions to the housing stock in 2020/21.
But in a possible indication the government is not confident of meeting its 300,000 homes-a-year manifesto pledge, Andrew urged against looking at numbers solely.
Minister of Housing The Rt Hon @StuartAndrew MP is making his key note speech at #Housing2022 pic.twitter.com/zgWYoHp2HT

— Housing 2022 (@Housing_event) June 29, 2022
He said: "Our ambition now is to do everything we can to scale-up delivery and help the sector – to help you – overcome the barriers from holding you back.
"But I should stress that our view is that, when it comes to housing, far too much attention is paid to numbers. As Werner Herzog said, if facts were the most illuminating thing in life, then the New York phone book would be the most interesting book in the world.
See more>> CIH boss joins call for more development
See more>> Housing Today launches campaign for A Fair Deal For Housing
See more>> How do we boost housing association development?
Andrew also promised that the government will be "saying a lot more" soon on how it intends to support councils to build affordable housing in bigger numbers.
He added: "We will not get to where we need to be on housing without big ideas, big thinking and big policies to match them."
The speech comes after Housing Today launched its A Fair Deal for Housing campaign to get Britain building more than 300,000 homes a year.
The campaign calls on the government to re-commit to its manifesto pledge of building 300,000 homes a year by the middle of the decade. This follows ministers appearing to back away from promising to meet the pledge and the government scrapping some of its proposed radical planning measures to boost delivery.
Housing Today will over the next few months look at current barriers to increasing delivery and work with the industry to develop a package of solutions and asks for the government. A Fair Deal for Housing is already supported by the Home Builders Federation, the G15 group of the biggest housing associations in London, the National Federation of Builders (including the House Builders Association) the British Property Federation, Federation of Master Builders and the Land Promoters and Developers Federation.
CIH chief executive Gavin Smart used his address to the conference on Tuesday to call for the UK to build more homes, and questioned the government's apparent decision to have "pulled back" from its 300,000 homes-a-year target.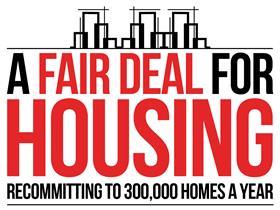 A FAIR DEAL FOR HOUSING
Housing Today believes the government should not back away from its manifesto pledge of building 300,000 new homes a year by the middle of the decade. We badly need more homes and a lack of supply is a major factor in creating problems of affordability for both buyers and renters.
Over the next few months, Housing Today  will be exploring potential solutions to help us ramp up housebuilding to 300,000. These are likely to, include different ways of working, funding asks of government and policy ideas that could boost housebuilding.

We want to hear from you: what do you think can make a difference at a policy level?
What can the industry do better?

We believe that, with the right commitments from ministers and the industry, it is possible to build more homes and help the government to meet its objectives to "build beautiful", improve quality and safety, boost home ownership and level up the UK.