Group rolls out 278 homes and aims to deliver 1,500 in next two years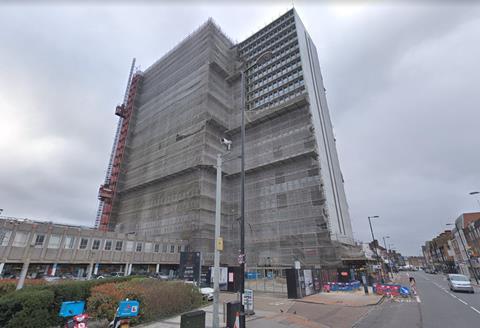 Legal & General is launching its first batch of affordable homes, including 50 shared-ownership units in Leon House, a former 1970s brutalist office block in Croydon, south London.
L&G's affordable homes division said it had secured four schemes covering 278 homes, and planned to deliver 3,000 affordable homes a year by 2023.
In addition to the Croydon scheme, the group plans to roll out 44 homes in Falmouth, developed in partnership with housing association Coastline Housing, plus 23 shared-ownership flats in Phoenix Park, Dunstable, available later this year.
And a scheme in Shrivenham, Oxfordshire bought from L&G's housebuilding operation L&G Homes will deliver 109 homes at affordable rent and 52 shared-ownership flats, all of which will be ready early next year.
The Dunstable and Shrivenham developments will be delivered under section 106 agreements.
The 22-storey Leon House (pictured) in Croydon was built in 1970 and designed by Tribich, Leifer & Starkin.
Once home to media giant EMAP the former office building has been redeveloped into residential by FI Real Estate Management and will feature 263 flats, split between one and two-bedroomed apartments.
Ben Denton, managing director of Legal & General Affordable Homes, said his group was "committed to offering a choice of tenures to future residents, deploying institutional capital at scale and pioneering new partnership models, such as the one we have set up with Coastline.
"This range of routes to market will help us meet our ambition to become a leading affordable housing provider in the UK and deliver the volume of affordable homes which the country desperately needs."
Denton said L&G had secured a pipeline of 40 sites across the UK and aimed to deliver 1,500 affordable homes in the next two years.