Latest funding confirmed as L &G Affordable Homes scales up direct delivery
L&G has announced it will invest £2bn of pension fund money into building 10,000 new homes through its registered housing provider arm.
The investment is the third wave of funding for Legal & General Affordable Homes (LGAH), the insurance giant's affordable housing business, from L&G's retirement funds arm. It follows a £100m commitment in 2020 and a £270m fund last year to build 1,400 new homes by 2024.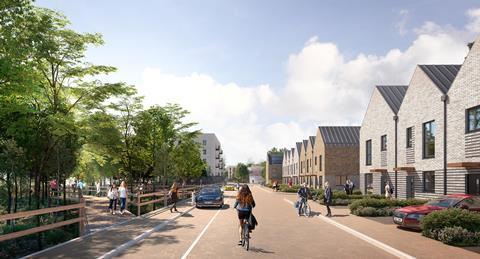 The latest funding will help LGAH meet its previously announced ambition of building 3,000 affordable homes a year from 2025.
Andrew Kail, chief executive officer, at Legal & General Retirement Institutional (LGRI) said: "The UK has a huge shortage of affordable homes. Today's announcement demonstrates how Legal & General Retirement Institutional, by putting inclusive capitalism at the centre of its investment focus, will help to address some of this problem."
See also>> Briefing: L&G Affordable Homes' ambitions plans for expansion
LGAH was set up as a 'for-profit' registered provider of affordable housing in 2018 and initially much of its focus was on forward buying homes through section 106 planning agreements for affordable or social rent, or shared ownership.
However, chief executive Ben Denton told Housing Today last year he wants to do more direct delivery of housing through L&G's modular homes arm and reduce section 106 from around three quarters to around two thirds.
The investment from LGRI is just one source of funding from LGAH. In November, LGAH registered four new for-profit providers in a bid to diversify its funding.