Shadow housing secretary will also set out plans to give first time buyers "first dibs" on new build homes for six months
A Labour government would prevent developers selling more than 50% of homes off plan to overseas buyers, and give first-time buyers first dibs on new build housing, under plans to be unveiled at the Party's annual conference.
Shadow Labour housing secretary Lucy Powell used Twitter to confirm reports of the policy proposals ahead of her speech to conference on Sunday.
Powell said Labour also planned to give councils greater powers to assemble land for the regeneration of town centres and delivery of new affordable homes.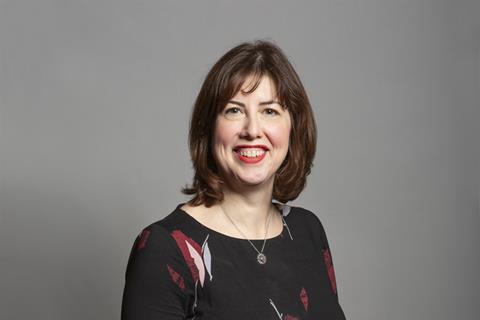 During her conference speech, Powell (pictured), who was appointed shadow housing secretary in the Party's May reshuffle, is expected to step on to traditional Tory territory, claiming that "Labour is the party of homeownership", while characterising the Conservative Party as "the party of speculators and developers", who "treat housing as a commodity, not the bedrock of stable lives and life chances."
Powell is also expected to promise to ditch the Conservatives "affordable rent" tenure, under which homes are built to be rented at up to 80% of local market rates, and instead link rent costs to local incomes, which typically produces rents as low as 30% of market rates in high value areas.
Powell said on Twitter that "Labour sees housing as a key issue at next election. Housing costs must be truly affordable. That's why we want affordable rents linked to local incomes not over-heated rental/buying markets.
"Overseas investors buying new homes off-plan before anyone sees them must end. We will give first time buyers first dibs on new market homes," she said, adding Labour would "give Councils powers to buy land/property to master plan their town centres, & create affordable homes".
The Guardian and BBC reported that Labour will propose that first time buyers be given six months to buy new build homes before other purchasers are allowed a chance. In response the HBF said it was important that any such policy only applied to cheaper homes within reach of first time buyers.
The announcement comes amid post-reshuffle confusion over the government's position on housing, with the new housing secretary, Michael Gove, pausing the government's controversial planning reforms as he gets to grips with a wide-ranging brief which includes levelling up, local government and defending the UK from nationalist bids to break up the union.
The government had been expected to publish its response to the planning white paper in the coming days, but that is now thought unlikely.
Labour's announcement also comes as free market think tank the Adam Smith Institute released research, backed by the communications company founded by former Tory elections boss Lynton Crosby, saying that the Conservative Party could win 1.6m votes by committing to building two million homes and delivering on the levelling up promise.
The C|T Local-funded opinion poll found that two thirds of voters would back housebuilding if they could see either the benefit for their family, or improvement in local services, with the researchers claiming the work showed opponents of new housing could be won over by promises to improve local services and reduce housing costs.
The research also claimed to find widespread support for a number of the government's proposed planning reforms, including for a zoning system and a new Infrastructure Levy.
The research said that the Conservatives could get a 5 percentage point boost at the ballot box, the equivalent of 1.6 million people switching their vote, if they commit to building 2 million new homes, while Labour would receive a 4 point bounce from the same commitment.