Shadow minister Lisa Nandy criticises government's housing and environmental record but says Labour will back measures to get Britain building
Labour is likely to back controversial government plans to scrap nutrient neutrality rules despite the move provoking uproar from environmental groups, the party has said.
This morning Michael Gove said he plans to strip environment quango Natural England of the duty to block housebuilding in areas where protected habitats are at risk from nitrate and phosphate pollution, a move described by the Wildlife Trusts as "disgraceful".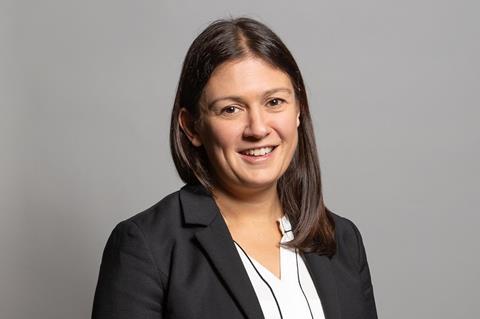 However, with the move dependent upon securing amendments to the controversial Levelling Up and Regeneration Bill (LURB), Labour shadow housing secretary Lisa Nandy has said the official opposition will "support effective measures that get Britain building".
Housebuilders blame the nutrient neutrality rules for holding up construction of up to 150,000 homes in the planning pipeline, with effective development moratoriums in place in more than 74 local authorities.
Since a 2018 European Court ruling, local authorities have been unable to approve plans for new homes in areas where Natural England has advised them protected habitats are in poor condition, given they would be open to legal challenge. Natural England now has such advice in place in 74 councils across England.
In response to the announcement, which the government said would see an additional 100,000 homes built, Lisa Nandy criticised the government for both failing to build enough homes and protect the environment. However, Labour sources confirmed that while the Party will wait to see the exact wording of the amendment before finally confirming its position, it was ready to support reforms to the nutrient neutrality rules.
>>See also: How do we stop the nutrient neutrality problem holding up development?
Nandy said: "With housebuilding projected to fall to the lowest level since World War II and our rivers full of sewage, the Conservatives are failing on both housing and the environment.
"Labour will support effective measures that get Britain building, but it's laughable to think that a Prime Minister who is too weak to stand up to the NIMBYs on his backbenches can be trusted to deliver the housing Britain needs."
Nandy added that Labour supported a "strategic" approach to housebuilding, with housing targets developed in partnership with local areas, and said Labour would ensure cleaner rivers by mandatory monitoring on all sewage outlets, introducing automatic fines for discharges paid for by eroding dividends, setting ambitious targets for stopping systematic sewage dumping and ensuring that water bosses are legally held to account for negligence.
Labour's support will be seen as a significant boost for the prospects of the move becoming law, given that the levelling up bill is already bogged down in a range of controversies over government planning reforms and insiders are concerned may not be on track to become law in this session of Parliament.
Earlier, prime minister Rishi Sunak had said the announcement will provide an £18bn boost to the economy and support tens of thousands of jobs. Visiting a Taylor Wimpey housing development in Norwich earlier today, he said: "We're able to do this because previously it was a disproportionate and poorly targeted old EU ruling that blocked these homes.
"Thankfully we can now reverse that, and alongside that we are investing hundreds of millions of pounds to continue protecting and enhancing our precious natural environment."
Housing Today's A Fair Deal for Housing campaign has called on the government to act strategically to deal with the issue of nutrient neutrality.
The Department for Levelling Up, Housing and Communities is expected to later today publish the draft amendment to the Bill removing the requirement on Natural England to advise local authorities about nutrient pollution impacts.
Housebuilders have welcomed the plans, but environmental groups have reacted with fury, with the Wildlife Trusts accusing the government of having broken previous promises not to water down environmental regulations. Wildlife charity the RSPB described the decision as a "national scandal" while musician and rivers campaigner Feargal Sharkey said the government's pretences on the environment had been "blown asunder".
Under the plans housebuilders will still be expected to contribute mitigate their nutrient pollution from new development, with the government doubling the size of the current Nutrient Mitigation Fund to £280m which pays for schemes that offset pollution, and expecting "larger developers make an appropriate and fair contribution to this scheme over the coming years".
The statement said DLUHC is discussing "the right structure and approach" for this contribution with the Home Builders Federation.
A Fair Deal for Housing campaign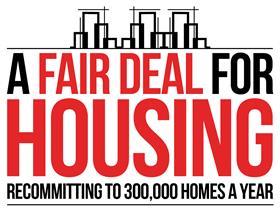 Housing Today believes the government should not back away from its manifesto pledge of building 300,000 new homes a year by the middle of the decade. We badly need more homes and a lack of supply is a major factor in creating problems of affordability for both buyers and renters.
Over the next few months, Housing Today will be exploring potential solutions to help us ramp up housebuilding to 300,000. These are likely to include different ways of working, funding asks of government and policy ideas that could boost housebuilding.
We want to hear from you: what do you think can make a difference at a policy level?
What can the industry do better?

We believe that, with the right commitments from ministers and the industry, it is possible to build more homes and help the government to meet its objectives to "build beautiful", improve quality and safety, boost home ownership and level up the UK.
Click here to find out more about the campaign
To contribute ideas to our A Fair Deal for Housing Ideas Zone database, click here.
A Fair Deal for Housing is part of the Building the Future Commission