Two deals signed with housing providers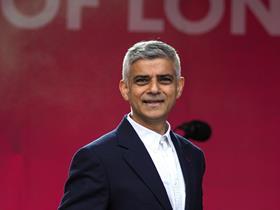 London mayor Sadiq Khan has awarded two deals worth £25m to build up to 200 homes to help former rough-sleepers and victims of domestic abuse leave hostels and refuges.
The contracts have been handed to providers One Housing Group and Resonance Real Lettings Property Fund, who will deliver 115 homes and up to 75 homes respectively.
The first homes are expected to be ready in early autumn and the remainder started by March 2021.
The funding for this programme is part of Khan's (pictured) Affordable Homes Programme.
One Housing Group will receive £15m of capital grant to deliver 115 homes, while Resonance Real Lettings Property Fund will receive up to £10m.
Residents will be provided with support for mental health issues, financial management, help finding employment, education or training opportunities, and referrals to other agencies.
Both providers will receive additional funding to provide support services.