Housing secretary supports Policy Exchange call for streets to grant themselves permission to redevelop
Housing secretary Robert Jenrick has endorsed a proposal by right-wing think tank Policy Exchange to allow suburban streets to vote themselves planning permission to transform into three-storey terraces.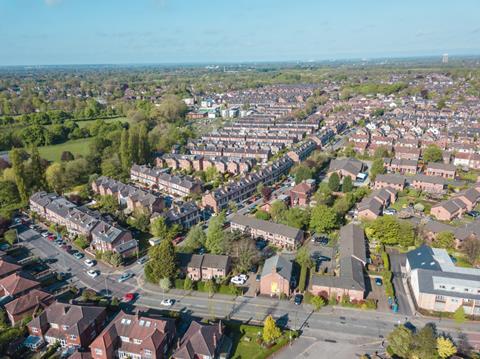 In a report published today, also backed by a range of planners and former Riba president Ben Derbyshire, Policy Exchange said the idea would prompt a £34bn housebuilding boom as suburban homeowners looked to cash in on potential redevelopment profits.
The proposal would allow suburban streets to draw up "street plans" – effectively design codes include rules around parking, contributions to local authorities, heights, overlooking, light and design – which would be voted on by residents.
Policy Exchange proposes that if 60% of residents, from more than half the houses, voted in favour, then permission for the redevelopment is granted. While individual residents would retain the right not to redevelop their plots, the report says that homeowners in some parts of the country could benefit both from bigger houses and windfalls of hundreds of thousands of pounds from the selling off the surplus properties created.
Policy Exchange said the plan could see suburbs converted into "popular Georgian and Victorian" terraces.
Housing secretary Robert Jenrick paid tribute to Policy Exchange's work and said the government supported "enabling communities to set their own rules for what developments in their area should look like, ensuring that they reflect and enhance their surroundings and preserve our cherished local heritage", adding that Policy Exchange was "continuing this vital conversation."
Policy Exchange estimated the policy could see an additional 110,000 homes built each year for the next 15 years, generating £34bn of construction activity, boosting UK GDP by as much as 0.5 percentage points.
The idea is based on plans originally worked up by former Riba president, and chair of housing architect HTA, Ben Derbyshire, in his 2011 Supurbia report on densifying suburbs. It also fits with the government's existing direction of travel on planning reform, with last summer's planning white paper proposing that neighbourhoods be granted fast-track planning permissions where "provably popular" design codes were in place.
Ben Derbyshire, a Housing Today columnist, said this policy framework would be be "a terrific stimulus for popular housing development and local economic activity."
"The development process will transform many equity rich, cash poor households, enliven local services and provide opportunities for SMEs to deliver a hassle-free development process for communities with potential to improve the lives of many in declining suburban areas," he said.
The author of the strong suburbs report, Samuel Hughes, said: "We need a scheme that creates more good homes and better places in a way that that shares the benefits with existing residents and communities, so they may become enthusiastic advocates of building rather than vigorous opponents."
According to Policy Exchange, homeowners in wealthy suburbs in the London boroughs of Barnet, Hillingdon, Kingston-Upon-Thames, and Enfield could stand to make £1m each from pursuing the plan, with residents elsewhere making hundreds of thousands of pounds.
The plans have been endorsed by a range of architects, planning lawyers, housing campaigners and heritage groups, including the chair of the Georgian Society and the chair of the London Forum of Amenity and Civic Societies.