Modular housebuilder considering new facility following £30m Homes England loan
Modular housebuilder Ilke Homes is looking to open a second factory producing its steel-framed volumetric houses following the decision by quango Homes England to offer it a £30m loan.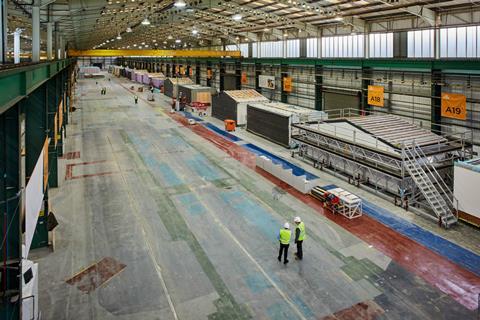 Ilke Homes chief executive Dave Sheridan said the business was currently considering whether or not a second facility will be needed to boost the firm's production capacity from the planned 2,000 homes per year to 5,000.
This comes after Housing minister Esther McVey hailed Ilke's deal with Homes England, announced at the start of the week, as a significant step in forming a new "construction corridor" based around off-site manufacturing in the north of the country.
Sheridan said the £30m Homes England was split in to two £15m tranches, with the first half funding the delivery of its promised expansion to 2,000 homes per year production capacity by 2020 in its existing facility in Flaxby, North Yorkshire.
However, he said the second half of the funding would allow it to further options to expand production and develop the product.
"We're in early discussions about what we want, whether we need a smaller factory to do prototypes or another factory, to do 'Ilke 2' – another Flaxby," said Sheridan. "So we're actually looking at what the volume will be.
"If we get beyond the 1,500 orders we're hoping to get for next year then we're seriously looking at another facility to enable that production to take place."
Ilke was set up in 2017 in a joint venture between steel frame modular specialist Elliott and housing contractor Keepmoat, and completed its first homes last year. Homes are constructed in the firm's Yorkshire factory and transported to site by lorry. In June it signed a deal with housing association Places for People to deliver 750 houses, and also counts Keepmoat and Home group among its customers.
Sheridan added: "We are in discussions now about when factory two takes place because the pipeline is growing substantially."
He also said Ilke was planning to pilot an apartment system early next year, having so far focused on building stand-alone homes.
Sheridan said the firm has firm orders for 1,500 homes next year, and that he was "supremely confident" that demand existed to allow it to expand production ultimately to 5,000 homes a year.