Homes will be completed in factories in Sweden and Estonia and then shipped to the UK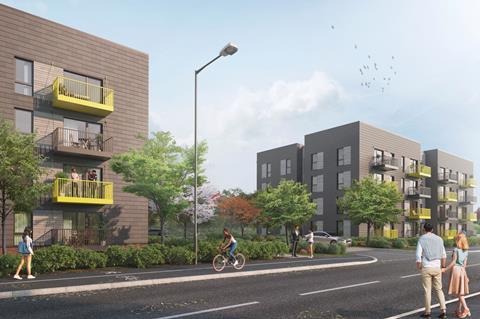 Swedish retail behemoth Ikea is hoping to deliver factory-built 200 homes in Bristol as part of its housebuilding joint venture with contractor Skanska.
The two firms own BoKlok, a low-cost housing provider which has delivered about 12,000 homes across Scandinavia in the past 20 years and is now targeting the UK.
The 200-homes BoKlok scheme in Bristol is part of the city's five-year long housing festival and will be erected on a Bristol council-owned site on Airport Road.
Subject to planning consent being given construction will start in the autumn of next year.
About 140 of the 200 units will be for private sale, with the rest going for social rent and shared ownership.
The Bristol homes will be made of timber, built in factories in Sweden and Estonia and then ferried to the UK.
They will be delivered in modular block format to be constructed on site, with interiors including flooring, kitchen, bathrooms and living space already in place.
BoKlok currently does not have manufacturing facilities in the UK.
A spokesperson said that a number of discussions regarding BoKlok developments in the UK were "on-going. At the moment our focus is in the south west."
It was too early to say how many homes Skanska and Ikea envisaged developing in the UK, the spokesperson added.
Gregor Craig, president and chief executive of Skanska UK said BoKlok would broaden his firm's offer in the UK with sustainable, quality homes at a low cost.
"Skanska has been actively involved in Bristol for many years, building or refurbishing over 50 schools in the area.
"I am delighted that these plans for BoKlok would extend our association with the city," he added.