Plans latest to be refused on design grounds follow Westferry and Brighton Marina decisions
Housing minister Chris Pincher has turned down plans for more than 1,000 flats and a new stadium for Woking FC in suburban Surrey, declaring the scheme to be "bulky" and "incongruous".
The decision on an allocated site in Woking's local plan is the latest to reference design and placemaking as part of the reason for refusal, following the refusal of the Westferry Printworks and Brighton Marina schemes in recent weeks.
Pincher, who made the appeal decision on behalf of secretary of state Michael Gove, agreed with the inspector that the plans for a replacement stadium, a new health club and 1,084 flats in two separate applications, contravened the local development plan by virtue of their scale in such a suburban location.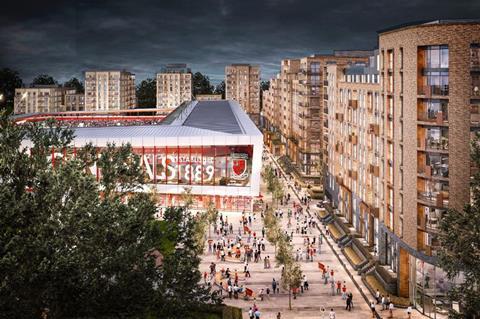 While Pincher concluded the scheme was well-designed on its own terms, he said the proposal for the flats in five buildings of up to 10 storeys in height, "would materially change the nature and character of the appeal site and would appear as a large, bulky and – for this location – somewhat incongruous high-rise housing development".
He said that the local plan made no provision for tall buildings outside the town centre and that this therefore put the scheme in conflict with it. In addition, he agreed with the inspector that it would deliver a "woeful under-provision" of three- and four-bed family housing for "a suburban location such as this".
Pincher's decision letter said he concluded that the plans were "not in accordance with the development plan overall", with harms including to the character and appearance of the street-scene and the surrounding area, and the failure to create a sustainable and balanced community.
The letter said Pincher "considers that the material considerations in this case indicate a decision in line with the development plan – i.e. a refusal of permission."
The scheme is being promoted by developer GolDev, set up by Wayne Gold, which appealed Woking's refusal of its plans in the autumn last year. Woking had previously entered into an agreement with GolDev to let the firm pursue the redevelopment of the existing Laithwaite Community Stadium on the site
Wayne Gold declined to comment on the decision.
Julie Fisher, Woking Borough Council's chief executive, said: "I know that many residents, who campaigned passionately against the development proposals submitted by GolDev, will be relieved by this decision.
"Without planning permission, it means that all financial and development agreements entered into between GolDev and Woking Borough Council shall be brought to an end."