Housing association and councils seek firms who specialise in net zero solutions
A consortium of 44 social landlords has launched a £2bn zero carbon framework.
The South East Consortium (SEC) is looking for firms who specialise in technologies designed to help buildings achieve net zero. It wants bids from companies that maintain and install both ground and air-source heat pumps, as well as a variety of sustainable ventilation systems.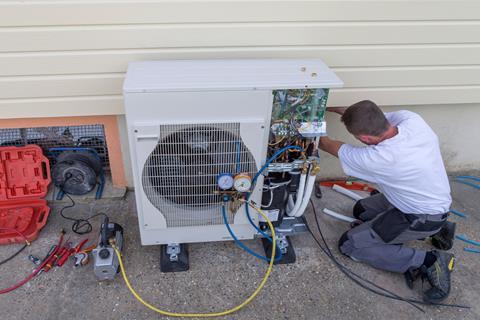 In a contract notice the framework provider said: "The housing sector is under growing pressure to realise a position of net zero carbon. Our members need a comprehensive framework that provides options suitable to all cases.
"Whether that be carbon reduction assessments and master plans for change, specific energy efficiency improvements, or a group of improvements to be installed, options to add maintenance packages to such technologies, and options for partnerships with organisations or consortia where the whole challenge, either by stock holding or by estate can be worked on together."
The framework will run for two years with the option of extending for a further two years and like all SEC Frameworks can be accessed by all publicly funded organisations.
Firms have until 30 September to register their interest in the deal.
This deal is the second part of SEC's frameworks covering zero carbon - with invitations to tender already being considered for a £5bn deal that covers a whole other range of services.
The framework launch follows rising concern among social landlords about the potential cost of the decarbonisation agenda and what this could mean for development.
Geeta Nanda, chair of the G15 and chief executive of Metropolitan Thames Valley, last month told Housing Today of the importance of making sure the right decarbonisation technologies are used and that good piloting and data is essential. "We want to make sure that whatever we put in place has been worked through, that those technologies work and that we're not going to be putting in place things that five years later, we're going to have to take out again" she said. Nanda warned stock would have to be sold off if associations can't meet the targets or the cost is too high.
What is the South East Consortium?
SEC is a non-profit central purchasing body set up to help the housing sector more efficiently tender for works. It has 44 members from the housing association and local authority sectors.
The members are:
Arhag Housing Association
Ashford Borough Council
Barnsbury Housing Association
Basildon Borough Council
Croydon Churches Housing Association
Dover District Council
Eastbourne Homes
Epping Forest District Council
Golding Homes
Gravesend Churches Housing Association
Gravesham Borough Council
Hastoe Housing Association
Hexagon Housing Association
Home Group
Homes for Haringey
Industrial Dwellings Society (IDS)
Inquilab Housing Association
Keniston Housing Association
Lewes District Council
Lewisham Homes
Local Space
London Borough of Enfield
London Borough of Hackney
London Borough of Hammersmith & Fulham
London Borough of Islington
London Borough of Southwark
Moat Homes
Optivo
Origin Housing
Phoenix Community Housing
Providence Row Housing Association
Radcliffe Housing Society
Raven Housing Trust
Sapphire Independent Homes
Silva Homes
Sutton Housing Partnership
Thurrock Council
Town & Country Housing
Walterton & Elgin Community Homes (WECH)
Waltham Forest Housing Association
Wandle Housing Association
Wealden District Council
West Kent Housing Association
YMCA
Zero Carbon Framework - Part 2
Lot 1a - Installation of air source heat pumps and smart heating controls for domestic heating and cooling
Lot 1b - Maintenance of air source heat pumps and smart heating controls for domestic heating and cooling
Lot 1c - Combination of installation and maintenance of air source heat pumps and smart heating controls for domestic heating and cooling
Lot 1d - Installation of ground source heat pumps and smart heating controls for domestic heating and cooling
Lot 1e - Maintenance of ground source heat pumps and smart heating controls for domestic heating and cooling
Lot 1f - Combination of installation and maintenance of ground source heat pumps and smart heating controls for domestic heating and cooling
Lot 2a - Installation of air source heat pumps and smart heating controls for district or communal heating and cooling
Lot 2b - Maintenance of air source heat pumps and smart heating controls for district or communal heating and cooling
Lot 2c - Combination of installation and maintenance of air source heat pumps and smart heating controls for district or communal heating and cooling
Lot 2d - Installation of ground source heat pumps and smart heating controls for district or communal heating and cooling
Lot 2e - Maintenance of ground source heat pumps and smart heating controls for district or communal heating and cooling
Lot 2f - Combination of installation and maintenance of ground source heat pumps and smart heating controls for district or communal heating and cooling
Lot 3a - Installation of mechanical ventilation with heat recovery - MVHR
Lot 3b - Installation of mechanical extract ventilation - MEV
Lot 3c - Installation of passive ventilation with heat recovery - PVHR
Lot 3d - Maintenance of ventilation systems
Lot 3e - Maintenance of PVHR systems