Report by regulator finds associations are reducing development plans in light of covid crisis
The number of unsold private homes held by housing associations has shot up by more than a fifth in the last quarter to reach its highest ever level, according to the latest figures from the regulator.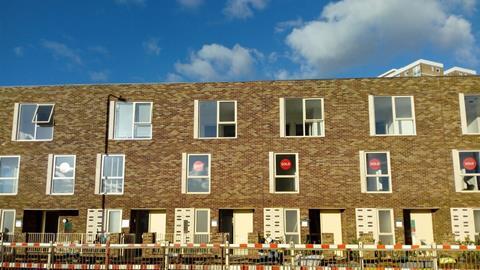 According to its latest quarterly survey of registered housing providers, the number of unsold private sale homes has hit 3,073, an increase of 536, or 21%. Between the end of December and March, 1,944 units were developed for sale, but just 1,363 were actually sold.
Associations have also seen an increase in the number unsold homes built for affordable home ownership during the quarter, the Regulator of Social Housing said, with an increase of 12% to 7,808 unsold homes.
In addition, the report found that housing associations have sharply reduced their forecasts for development for the year ahead.
However, the RSH's report found that overall, associations were in a "good financial position leading up to the unprecedented challenges caused by coronavirus", with available cash increasing by £1.2bn between December and March.
The figures for unsold private homes, which have been collected since 2014, includes 1,190 that have been unsold for more than six months, more than a third of the total. The report found the stock of unsold homes is concentrated in relatively few major developing associations, with more than half the unsold homes held by just seven providers.
This week major developing association L&Q admitted that the number of unsold homes on its books had soared from 136 at this point last year to 526, with the stock worth an estimated £133m.
The report said associations now expected to rein in plans for development in light of the coronavirus pandemic. It said: "It is already clear that there will be a significant economic downturn and it will potentially impact further on reporting data such as rent arrears, sales, repairs and development over the 2020/21 financial year."
It said that forecasts for capital spend on development and acquisitions had already reduced by 22% from that expected just three months ago, from £16.9bn to £13.1bn. The RSH added that these figures may not yet reflect the full impact of the covid-19 crisis, as "these were providers' initial estimates and the full impact may not yet be reflected in forecasts."
Fiona MacGregor, RSH chief executive, said registered providers needed to keep a close eye on the hohusing market as they navigated the crisis. She said: "Our quarterly survey shows that the social housing sector has started from a strong financial position to face the current crisis.
"In the months ahead, providers will need to keep a continuous watch on the risks to their viability and be prepared to take prompt action, particularly their liquidity and exposure to the housing market."