Official figures show the sector defied the May deluge to record growth but output remains below pre-pandemic level
Housebuilding work in the UK edged up in May despite the adverse weather which saw construction output overall slip back by 0.8%.
The latest seasonally adjusted figures from the Office for National Statistics found that housebuilding work was £9m higher in May compared to April, a rise of 0.2% to £3.48bn.
Within that, private housebuilding work actually grew by 1.4%, but the smaller volume of public sector work dropped back sharply, largely cancelling out the rise.
In any event, the very slight rise in new build housebuilding work was more than cancelled out by a small drop in housing repair and maintenance.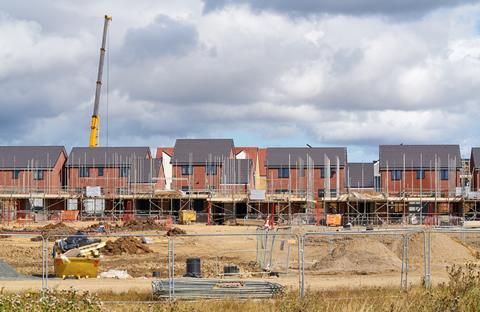 The May output figures leave the new build housing sector still slightly behind the level of output seen in February 2020, prior to the covid pandemic.
The ONS said anecdotal evidence from businesses suggested that adverse weather conditions in May, the fourth wettest month in 150 years, contributed to the overall decline in construction output in the month.
The ONS' latest construction output update revealed that construction output fell 0.8% in May 2021, but that the overall level of output was slightly above its pre-pandemic February 2020 level.
The level of construction output in May 2021 was 0.3% or £43m above the February 2020 pre-pandemic level.
While new work and repair and maintenance both contributed to the monthly decline in May 2021, repair and maintenance work was still above 7.5%, or £363m, above pre-pandemic levels. New work was 3.5%, or £320m, below.
But the longer term picture was brighter, with output for the three months to May growing by 6.3% compared with the previous three-month period.
Both new work and repair and maintenance grew by 6.6% and 5.8% respectively.
Fraser Johns, Beard finance director said: "The 0.8% fall in output in May, which follows a drop in April, should be viewed in the context of the three months to May, which saw continued growth of more than 6%.
"But as we saw with UK Construction PMI stats also out this week, the good news in growth is in sharp contrast to the issue around supply chain delays, which are at historic levels, and the soaring cost of materials."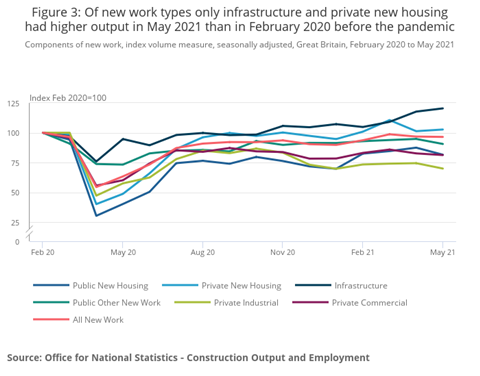 Of new work types only infrastructure and private new housing had higher output in May 2021 than in February 2020 before the pandemic.
Infrastructure was the top performing new work sector in May, growing by 2.3% month-on-month and 9.7% in the three-month on three-month series.
Private housing grew by 1.4% month-on-month and 7.4% three-month on three-month.
Clive Docwra, managing director of McBains, said: "Given today's figures show the second successive monthly fall in output after several months of steady growth, it shows just how fragile recovery remains in the construction sector.
"With commercial construction work expected to continue to pick up as offices return over the next few months, this materials shortage could also mean a bottleneck in the supply chain that means more projects may be put on hold, putting any revival at risk."
Commercial activity grew 4.2% in the three months to may but slipped by 1.7% month-on-month in May.