Materials and labour shortages mean purchasing managers' index is at lowest level since May 2020
The rate of growth in housebuilding work fell to its lowest level last month since the height of the coronavirus pandemic in May 2020, as materials and labour shortages continue to bite.
According to the latest construction purchasing managers' index from IHS Markit and CIPS, the housebuilding industry recorded a score of 55 – still above the "50" mark that denotes growth – but the lowest level seen since the industry was effectively temporarily shut down in spring last year.
This is also the first time that the housebuilding industry has recorded an index score of less than 60 since February this year.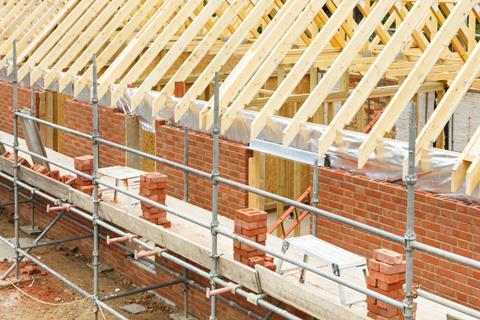 The figures come amid increasing evidence of a gradual easing off in the housing market, with housebuilder Barratt last week reporting that reservations over the past six weeks were below the level seen last year.
However, commentators put the drop off in housebuilding activity down to pressure on the supply chain, with increasing fears over materials shortages. Official figures showed average product costs have risen 20% in the last year.
Gareth Belsham, director of the national property consultancy and surveyors Naismiths, said the construction industry was becoming "a victim of its own success".
He added: "The supply chain problems are no longer just project speed bumps – they're applying the brakes to new orders as well.
"Soaring prices of key building materials, not to mention patchy availability and lengthy delays, have forced some construction firms to admit to clients that they simply cannot keep up with demand for building projects."
Joe Sullivan, partner at accountancy practice MHA, said the drop in growth was "a consequence of tightening supplies and the traditional holiday season, rather than flagging demand".
The latest PMI data drawn up by IHS Markit and CIPS said total activity for August, including commercial and infrastructure construction as well as housebuilding, stood at 55.2, down from 58.7 the month before, and a fall of more than 11 points from the 66.3 figure recorded in June, a 24 year high which is increasingly looking like a one-off score.
It was the fifteenth consecutive month that output had gone up but the rise was the slowest growth since February with firms having ongoing problems getting hold of materials and then transporting them to site because of a lack of lorry drivers as well as other freight-related issues such as congestion at ports.
The survey said the cost of materials had gone up by the second fastest rate in its 24 year history with concrete, steel and timber all being hit by sharp rises with the cost of labour also heading north.
Commercial work was the best performing sector with a score of 56, ahead of housebuilding, with civil engineering lagging behind for the fourth month in a row with a score of 54.8.
Jan Crosby, head of building and infrastructure at KPMG, said: "A perfect storm continues to hamper availability of materials and labour across the sector in the UK. The industry is telling us that this is one of their biggest concerns right now, and that supply chain delays are preventing them from taking on new work to grow their construction businesses at a time when the economy is bouncing back.
"The ongoing lorry driver shortages and lack of stock mean these supply versus demand worries aren't going away quickly."