Official data show completions fell 10% in the second quarter of the year
Housebuilding starts and completions fell in the second quarter of the year according to official figures, the first fall in housebuilding seen since the initial recovery from last year's spring lockdown.
The Department for Levelling Up, Housing and Communities' "indicators of new supply" figures, which are not seen as definitive numbers but which are reliable indicators of trends, reported that on a seasonally adjusted basis, 42,900 homes were started in the three months to June, a five per cent decrease on the on 45,160 started in the first three months of the year.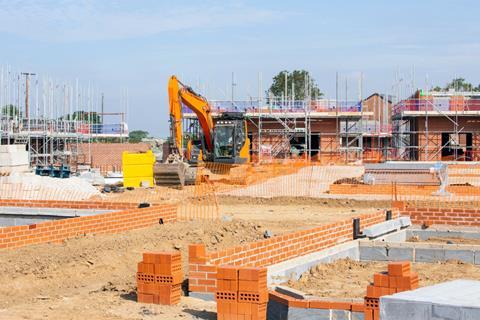 The quarterly figures to June were, however, up by 150% on the same quarter last year, when the UK was in the grip of the first national lockdown, and the majority of housebuilders shut sites.
The data revealed that housing completions fell even more steeply in the three months to June, with 43,660 reported, down 10% from the previous figures of 48,720. However, the previous quarter, driven by the initial deadline for the lifting of the stamp duty relief brought in last summer, was the highest on record.
The figures said there were 166,860 starts and 183,450 completions in the year to June, which equated to increases of 32% and 26% respectively on the year to June 2020 – which included the spring lockdown.
These figures are derived from building control data provided by the NHBC and are thought to account for around 80% of the market. Unlike the government's more comprehensive "net additions" figures, the data also doesn't include new properties added by conversions, renovations and changes of use.
Paul Smith, managing director of The Strategic Land Group (SLG), said the figures showed the government needed to press ahead with planning reforms put on hold following the reshuffle earlier this month which saw Michale Gove replacement former housing secretary Robert Jenrick.
Smith said: "The overhauled planning legislation should have been published last week - yet with the arrival of Michael Gove and political concerns - the pause button has been pressed once again, and we are no closer to solving the crisis and simply continuing to produce a dismal number of new homes."