Kit Malthouse: Government is 'doing its best' to encourage resurgence in public housing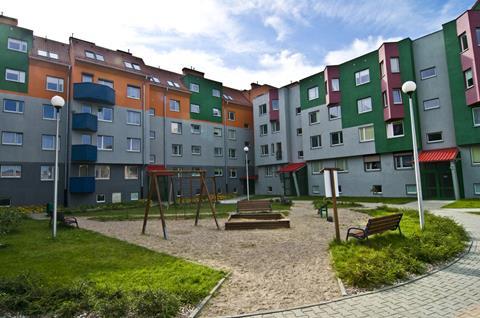 Housing minister Kit Malthouse has said he wants to free up anyone keen to contribute to achieving the government's target of building 300,000 homes a year by the mid-2020s.
Speaking at the launch of a report from New London Architecture (NLA) which suggested public housing was seeing a comeback in London Malthouse said public housing had a part to play in the government's goal of delivering 300,000 homes a year.
"There is a resurgence in the provision of public housing and [this is] something that we are doing our best to encourage – and as the NLA has pointed out, we have this enormous, historical target to hit and we are determined to try and do so by the mid 2020s," he said.
"If we're going to get there, our broad philosophy is: anyone who wants to build should be set free to build," Malthouse added.
NLA's document, Public Housing: A London Renaissance, argues that after a 40-year decline public housing delivery across a range of tenures is making a comeback.
It pointed to what it called "increased trust and transparency in the community consultation process", an emphasis on better design quality, a "renewed sense of civic purpose" from local councils, and the importance of "aftercare" and "robust maintenance and management".
Growth has been spurred on by new delivery vehicles – including development companies established by local authorities – as well as by last year's lifting of the HRA borrowing cap and an increase in funding from the London mayor's office, according to the report.
But while it says local authorities are making better use of land and working with the private sector and housing associations, the NLA report warns that councils need to raise their game when in dealing with private companies and social housing providers.
Peter Murray, NLA's chair, said changes in government legislation had permitted boroughs to build at scale for the first time since Margaret Thatcher's government stopped them doing so back in the early 1980s.
"Now, with the government calling for higher-quality housing, London is leading the way with well-designed housing with good space standards and robust materials. As a result of the mayor's London Housing Design Guide first published in 2010, homes designed in the 'new London vernacular' style have become a common sight right across the capital," he said.
"New London vernacular homes are invariably built in brick, they have balconies, they form part of the street network and they are low- and medium-rise. The new London vernacular is the Georgian terrace of today."