Evidence to House of Lords committee points finger at TfL and NHS Estates for prioritising land receipts over placemaking
Built environment experts have accused listed housebuilders and major public sector landowners of promoting development of "the lowest quality" in order to generate maximum financial returns from development and land sales.
Giving evidence to the House of Lords' Built Environment Committee, Design for Homes chief executive David Birkbeck accused the NHS and Transport for London of bypassing quality concerns when selling land to developers, and said some listed housebuilders were consciously lowering standards in order to maximise the price they can bid for land.
At the same time, former National Housing Federation boss David Orr accused housebuilders of abusing the planning "viability" process in order to get out of providing better schemes and affordable housing.
The evidence was given as part of an enquiry into meeting the UK's housing demand, looking particularly at the quality and design of new build homes. The enquiry has already heard from former No.10 housing advisers Alex Morton and Toby Lloyd, as well as the British Property Federation and Royal Town Planning Institute.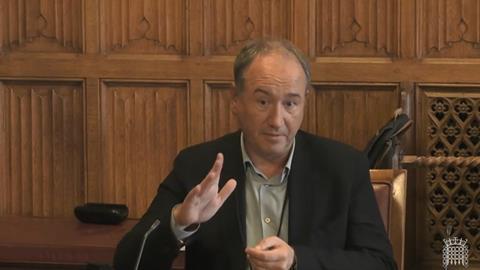 Birkbeck (pictured left) told the committee that open competition for land between housebuilders had the effect of driving up land prices, which led directly to poor placemaking because "the way you create the highest prices is to build the lowest quality."
While he said some public sector landowners, such as Homes England and the Defence Infrastructure Organisation, had introduced quality standards into sale process, others simply sought to get the highest receipt, despite knowing it would impact upon quality.
Birkbeck said: "If you compare Homes England, and the way they sell land where they build in standards, and TfL, where they don't, and you then look at the quality of stuff built on TfL sites compared to the quality of what Homes England builds, you can see the gap beginning to separate.
"One is essentially taking the highest value, and building as high as possible literally, and the other is thinking in terms of place and what it'll be like over 25 years, and the carbon footprint and a load of other things.
He added: "NHS estates are terrible, […]. They've deliberately sold to highest bidder knowing the scheme that will be built on NHS land will give them the biggest bill in terms of care over the next 35-50 years."
Both the NHS and TfL rejected Birkbeck's characterisation.
His accusation comes despite the NHS having publicly funded a programme called Healthy New Towns designed to report on how to design places in order to best improve public health. Asked by Lady Thorhill what the NHS should do differently, given it needed to maximise receipts in order to generate cash to build new facilities, Birkbeck said he didn't have an answer to that, but added "I do know that by attaching a certain level of design requirement to a land sale you can completely change what's built."
He also accused some developers of what he described as "zero plotting" – cutting back public realm or outside space to the lowest allowable level in order to maximise the amount of developable space on a site – and then "pretending" to be able to deliver against local authority quality requirements, despite their land costs making it impossible to do so. He said: "They'll go to planning pretending they can do it, and then they'll get back to site and build what they wanted to build."
See also>> We've got to stop building homes in the same way as 50 years ago
"The business model of several of the biggest plcs - not all of them, it's important to know they don't all do this - is essentially to strip everything that is not zero plotting, so they can maximise their land bid," he said.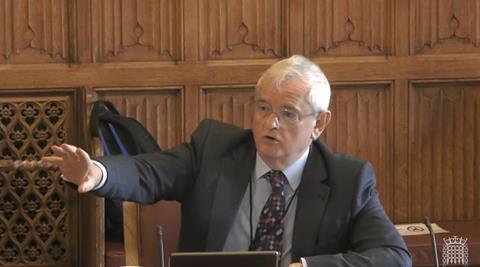 Meanwhile David Orr (pictured, right), chair of the Good Home Enquiry and a board member of housing association Clarion, said developers were guilty of arguing that "we can't do this good thing or that good thing, such as affordable housing, because of the price we've paid for the land."
He said: "It creates an absurd situation for some developers where they have a vested interest in the land price being high so they can avoid doing things on that development that they don't want to do. And they use the viability assessment as a way of arguing that case."
Andrew Whitaker, director of planning and the Home Builders' Federation, rejected the allegation that housebuilders were cynically attempting to reduce community obligations. "Private sector house builders now deliver over 60% of the country's affordable housing, through the section 106 model," he said.
However, he added that planning obligations could not fund every ask, and that the package as a whole and the final design of a development are negotiated with the local authority.
"Builders do not set land values but need to ensure sites are viable, or you get no housing of any tenure – or the indeed the billions of pounds each year in infrastructure payments made to improve local communities," he said.
Graeme Craig, director of commercial development at Transport for London, said he did not recognise Birkbeck's description of the body.
"We have published Design Principles that reflect industry best practice, our procurement processes score quality above price and we are acknowledged by the leading international benchmark as one of the most sustainable developers in Europe," he said. "We are undertaking a major development programme that will see thousands of new homes built on our land across the capital, with half of those homes being affordable, and work closely with Homes England as part of this.
"As well as generating millions of pounds a year to improve the transport network, we are delivering direct transport improvements as part of our activity, including improved interchanges and step-free access."
An NHS spokesperson said: "It is not right to say the NHS deliberately sells to the highest bidder, but NHS guidance is to ensure that NHS trusts, as land owners, achieve the highest value for land disposals for the public purse.
"The NHS absolutely supports healthy home designs and living, through funding programmes like Healthy New Towns, and relies upon close collaboration and partnerships with national and local government departments and Homes England to ensure that there is appropriate design guidance and application of healthy design through the planning process."
This story was amended 14.10.21 to add in the response from NHS England.