Rightmove forecast comes as the Nationwide reports another month of strong price growth in November
UK house asking prices will grow by 5% in 2022 as strong buyer demand continues, with the capital expected to see a 3% rise, according to Rightmove.
The property portal said it expected prices to grow most quickly in the parts of the UK with the most competitive house values at the moment, including Scotland, the South west, Yorkshire & the Humber and the West midlands, in which regions prices will rise by more than 7%.
Rightmove's latest forecast comes as mortgage lender Nationwide reported a 0.9% rise in prices in November, taking the annual change in the cost of a house to exactly 10%.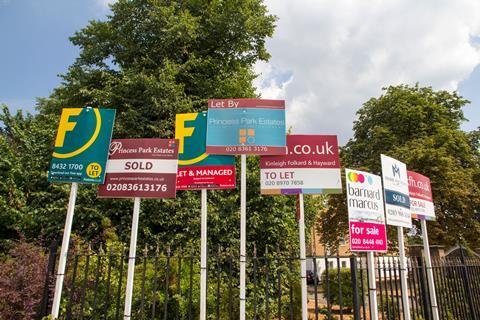 Rightmove's director of property data Tim Bannister said the hectic last 18 months had left the housing market with the lowest ever available stock of property for sale per estate agency branch, alongside strong continued demand. He said: "We do, however, expect the pace of rises in 2022 to be slower than in 2021 due to increasingly stretched buyer affordability following this year's rapid rises in average prices.
He added that the slowing in the pace of price rises and activity was likely to be more evident in the second half of the year as base rate rises, higher inflation, and higher taxes "begin to weigh more heavily on buyer sentiment."
The rise in prices reported for November by Nationwide takes the average cost of a UK home to a new record high of £253,000, around 15% above the level seen when the pandemic struck in March last year. The 0.9% rise was above the 0.7% growth in October.
Robert Gardner, chief economist at Nationwide, said the rise came despite signs of cooling in housing market activity in recent months, with transactions down almost 30% year-on-year in October. He said this was supported by early indications suggesting that the labour market remained robust despite the ending of furlough payments in September, which might mean the housing market was able to remain "fairly buoyant" in the months ahead.
However, he added: "But the outlook remains uncertain, where a number of factors suggest the pace of activity may slow. It is unclear what impact the new 'Omicron' variant will have on the wider economy. While consumer confidence stabilised in November, sentiment remains well below the levels seen during the summer, partly as a result of a sharp increase in the cost of living.
"Even if economic conditions continue to improve, rising interest rates may exert a cooling influence on the market."