Nationwide Index shows annual average sales prices rose by 13.4% in June
House prices rose by 13.4% in June, marking the biggest annual increase for more than 16 years, according to the Nationwide House Price Index.
The average selling price in the United Kingdom was £245,432, up from £216,403 in June 2020. The 13.4% annual price rise is the highest recorded by the building society since November 2014 and has been driven in part by buyers purchasing before the stamp duty land tax (SDLT) holiday starts to be phased out from tomorrow.
The large percentage increase is also partly due to Covid-19 supressing prices in June 2020, said Robert Gardner, chief economist at Nationwide.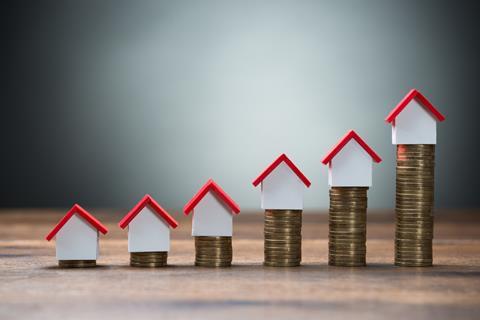 However, Gardner said there is "significant momentum' in the market, with three months of month-on-month increases and average prices increasing 5% since March.
Gardner raised concerns about the affordability of homes. He said: "House prices are close to a record high relative to average incomes. This is important because it makes it even harder for prospective first-time buyers to raise a deposit. For example, a 10% deposit is over 50% of typical first-time buyer's income."
The threshold at which buyers are required to pay stamp duty will be reduced from £500,000 to £250,000 for three months from Thursday, and then cut to its pre-pandemic level of £125,000 on 30 September as the covid-19 payment 'holiday' comes to an end.
Gardner said: "Activity will almost inevitably soften for a period after the stamp duty holiday expires at the end of September, given the strong incentive for people to bring forward their purchases to avoid the additional tax. "
Another house price index published today, by Zoopla, suggested that tomorrow's reduction in stamp duty relief for homes worth more than £250,000 is already having a moderating impact on demand, although it is still much higher than pre-pandemic levels. Zoopla said: "Demand for properties over £250,000 has dipped by a third since April but remains up 86% compared to average 2019 levels."
The Zoopla index suggested house prices rose 4.7% in May, compared to the same period in 2020.
See also:
Help to Buy gives 10% return to taxpayers
House price rise highest for six years says Rightmove