UK's largest build to rent landlord to use the cash to forward fund series of developments
The UK's largest build to rent landlord, Grainger, has raised £209m from its shareholders in a bid to accelerate its existing growth strategy.
The listed firm said that alongside additional borrowing, the issuing of new shares would generate around £360m of additional funding capacity, with which it intends to forward fund a series of developments, delivering more than 2,000 homes.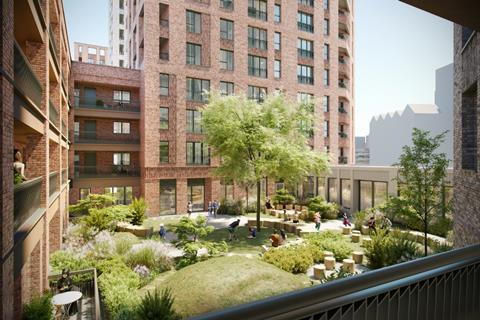 The 9,100-home landlord announced its intention to raise the cash by issuing new shares yesterday afternoon, and confirmed this morning that it had successfully placed more than 67 million new shares, raising £209m.
The firm said the fundraise had been "significantly oversubscribed", with "considerable support" for from existing shareholders, albeit the amount raised was £7m lower than the £216m expected when it announced the fundraise yesterday.
Grainger said the money will be used to fund the recent £95m acquisition of two schemes – Becketwell in Derby and The Forge in Newcastle, together producing 542 homes – as well as the purchase of a series of developments already at the planning and legal due diligence stage.
These include two scheme in London and the South east comprising 580 homes, plus four more schemes in other regional cities which will deliver 925 homes.
Helen Gordon, chief executive of Grainger, said she was "delighted" with the support shown from the firm's shareholders.
She said: "Grainger has a well- articulated growth strategy to further strengthen our nationwide PRS market leadership position with 10,000 homes and a further pipeline to almost double that. Our vision is to continue to provide high quality, mid-market, well located rental homes. This placing secures significant growth in net rental income and therefore dividend."