Housing minister defends controversial new formula designed to help set local housing targets
Government ministers were put under pressure by Conservative backbench MPs to defend proposed planning reforms during a House of Commons debate yesterday.
MPs used an oral questions session with housing and local government ministers to press for answers on the reforms, which include a controversial new formula designed to determine housing numbers for local councils.
Housing minister Christopher Pincher was forced to deny that the algorithm would create targets so high in some areas that they could only be achieved by building tower blocks.
Former Conservative environment secretary Theresa Villiers, MP for Chipping Barnet, warned that the algorithm would generate housing targets that could only be achieved by building tower blocks of one bedroom flats.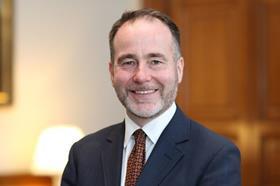 Pointing out that Pincher (pictured) had voiced similar concerns to London mayor Sadiq Kahn, Villiers said: "In March [Pincher] wrote a strongly worded letter to the mayor of London expressing concern that his London plan tilts away from family homes towards one bedroom flats. So how does he reconcile the inconsistency of that with his new housing algorithm that would generate such high targets that they are unachievable without tower blocks full of one bedroom flats?"
Pincher replied: "My honourable friend refers to the desire to protect quiet neighbourhoods and ensure that they are not overborne by tall tower blocks. I am very keen to ensure that local authorities are at the heart of decision making."
He added: "We will make sure that that is a fundamental part of our response to the consultation and I can reassure my right honourable friend that we will be bringing forward our proposals to achieve the sorts of ends that she is looking for."
Meanwhile, Conservative MP for North Thanet Roger Gale said told Pincher: "My right honourable friend knows that I have a high regard for him personally but that doesn't extend to the planning white paper, which seems designed to smother the south east of England and the garden of England in housing, not for for local people but people from elsewhere."
The consultation on the algorithm ended last week, with the government due to unveil its response in the coming months.
Ministers also received harsh words in the session from Labour MPs over the issue of homeowners unable to insure their homes with EWS1 fire safety forms.
Shadow housing secretary Mike Amesbury asked Pincher when he was going to "get a grip" on the situation, adding "this requires a sense of urgency."
Pincher replied: "The government is working with lenders to make sure this situation moves as quickly as possible to ensure that lenders require other more easily available assurances and to encourage lenders to act much more quickly."
He added: "We will make sure that we bring forward further proposals very soon."