Big expansion to designated Areas of Outstanding Natural Beauty planned, including in home counties
Countryside campaigners have welcomed government plans to expand the UK's network of protected rural environments significantly. The move is likely to make it harder for developers to secure planning permissions in these areas.
Natural England, the government's environment quango, said it was planning to designate two wholly new Areas of Outstanding Natural Beauty (AONBs) in the north of England, while significantly expanding two AONBs in the home counties – in total equating to around 1,600 sq km of newly designated land.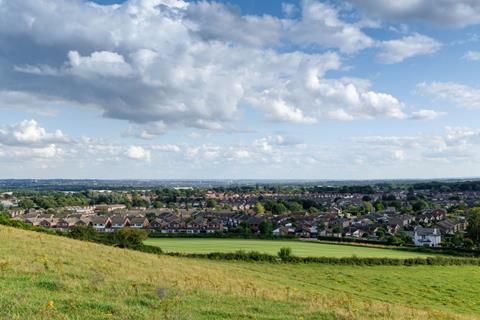 Natural England said it was considering the case to create one new AONB in the Yorkshire Wolds, found in the East Riding of Yorkshire, and another in the Cheshire Sandstone Ridge, which runs between Chester and Winsford.
The quango will also examine the case to expand the Chilterns AONB – the site of last week's Chesham and Amersham by-election – and the Surrey Hills AONB south of Leatherhead and Guildford.
Under national planning policy, "great weight" is attached to protecting AONBs, with the designation in general terms sufficient to overturn the "presumption in favour" of sustainable development contained in the National Planning Policy Framework (NPPF).
The NPPF says that planners should provide land for enough homes to meet designated need unless the need to protect AONBs and other designated areas provides a clear reason not to do so.
If enacted, Natural England said the designations would go 40% of the way towards meeting the prime minister's 2020 pledge that 30% of UK land area will be under protection by 2030. This would equate to the designations covering around 1,600 additional sq km of land.
Natural England said it would be considering proposals for new national nature reserves and plans to develop a swifter process to deliver national park and AONB designations in future. At present it takes several years for them to be created because of the need to consult every local authority affected before the final decision.
Crispin Truman, chief executive of countryside charity the CPRE said he was "delighted" at the proposed designations, but said that planning policies needed to be "pushing in the same direction" if the UK was to address the climate and biodiversity crises.
He said: "Given the seismic shift in how we value green space and the countryside, we are delighted that Natural England will begin work to extend two existing AONBs in the Surrey Hills and Chilterns and to consider the case for two new AONBs in the Yorkshire Wolds and Cheshire Sandstone Ridge. Importantly, both of these designations would be near to people living in towns and cities, improving access to outstanding landscapes."
Tony Juniper, the chair of Natural England, said: "I look forward to working closely with Defra, National Parks England and the National Association for AONBs to make these special areas richer in nature, accessible for all to connect with for their well-being and to deliver a green recovery from the Covid-19 pandemic."