Owners of eligible buildings over 18m with unsafe cladding can apply for cash to help pay repair costs
Owners and landlords who want to remediate blocks over 18m high can apply for a slice of £4.5bn in government cash today after the Building Safety Fund re-opened for applications.
Leaseholders will also now be able to check if they qualify for financial protections from safety costs under the Building Safety Act with a Leaseholder Protections Checker.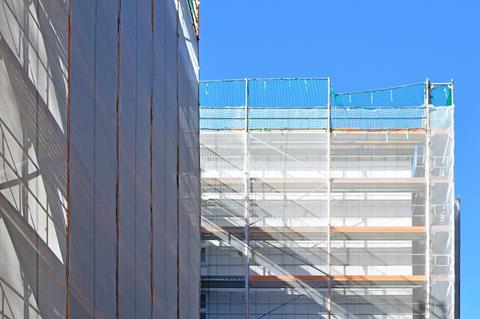 The Department for Levelling Up, Housing and Communities (DLUHC) called for homeowners to use the checker as soon as possible.
Since the Building Safety Act came into force last month, landlords and owners of blocks sending bills to leaseholders for remediation costs face up to 10 years in prison.
Levelling Up secretary of state Greg Clark said: "We must make homes safe. The re-launch of the Building Safety Fund today will help achieve this, but we must also ensure those in industry who acted irresponsibly pay their fair share to put things right.
"The Building Safety Act makes clear building owners' liabilities and gives us powers to pursue those that continue to flout the rules."
The building fund was originally launched in 2020 before being re-opened again today. It is available to organisations that have the legal obligation to carry out remediation work on their building, including freeholders, leaseholders, management companies, right to manage companies or social housing providers.
Those major developers that have signed the government's cladding pledge, which the government says is 48 so far, are not eligible because they have agreed to remediate their own blocks over 11 metres high from their own funds. They have no recourse to the fund for any works they need to carry out on defects that have developed over the last 30 years.
The DLUHC said more than £1.3bn from the fund has gone towards making homes safe since its launch in 2020.
Former secretary of state Michael Gove also warned when the Building Safety Act came into force that the department's new Recovery Strategy Unit would find individuals and companies that were not carrying out vital repairs to blocks, if they were legally obliged to do so. They have the legal powers to pursue building owners through courts, he emphasised.