Housing secretary considers lowering height threshold of ban from 18m to 11m as he sets up new safety regulator
The government will consider lowering the height threshold at which combustible materials are banned in buildings' external walls from the current 18m to "to at least 11m", housing secretary Robert Jenrick said yesterday.
Jenrick (pictured) made the comments as he told the House of Commons he would not tolerate the "slow pace of improving building safety standards" and announced measures he claimed would "go further and faster to ensure residents are safe in their homes".
He also said the previously announced building safety regulator was being established "immediately" within the Health and Safety Executive, putting it "at the heart" of a new safety regime.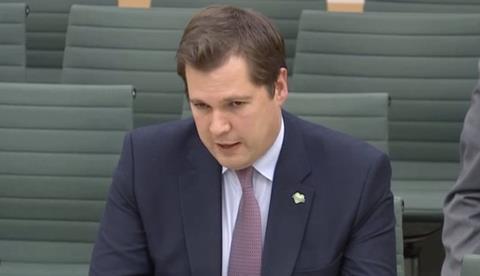 Ministers have been under pressure to speed up work to replace dangerous cladding material on residential tower blocks across the country in the wake of the Grenfell fire two years ago.
The second phase of the inquiry into the fire, which killed 72 residents, begins next Monday.
Jenrick said he would consult on extending the ban on combustible materials to buildings below 18m high and would seek views on risk assessments for existing buildings to steer policy in the future. The government was also considering lowering the height threshold from 18m to 11m, Jenrick said.
Jenrick said that to give what he called "effective oversight of the design, construction and occupation of high-risk buildings", the new regulator will be established with immediate effect and be at the heart of a new regime and part of the Health and Safety Executive.
The minister also warned that from next month the government would start to name and shame building owners who failed to make their properties safe by not removing and replacing unsafe aluminium composite material cladding.
A "construction expert" – who the government did not name – would be appointed to review the pace of remediation of potentially dangerous buildings in the private residential sector to see how work could be speeded up.
Speaking to MPs, the housing secretary said he was committed to bringing about what he labelled "the biggest change in building safety for a generation".
Jenrick said progress on improving building safety "needs to move significantly faster to ensure people are safe in their homes and building owners are held to account".
The government said it planned to spell out next month how it would deliver the technical review of fire guidance, particularly regarding sprinklers in new buildings.