McVey says remediation work to be completed by June 2020 as Arcadis warns a no-deal Brexit could hit material supplies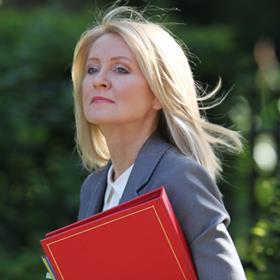 The government has confirmed it expects the removal of unsafe ACM cladding from privately-owned residential tower blocks to be completed by the middle of next year, unless there are "exceptional circumstances" which prevent the work being done by then.
In a series of replies to MPs' questions housing minister Esther McVey (pictured) confirmed the government expected remediation work on such buildings more than 18 metres high to be completed within six months of agreeing a plan, and that this work should take place "by June 2020".
The government said 166 buildings still had cladding systems which were unlikely to pass building regulations, including 26 where plans to address the situation were "unclear".
The removal deadline of June next year had been set by communities secretary James Brokenshire in one of his final ministerial acts before being sacked by incoming PM Boris Johnson last month.
McVey, who replaced Kit Malthouse in Johnson's reshuffle, said the government would consider "exceptional circumstances that may prevent this deadline being met on a case-by-case basis once full applications are received", although she declined to spell out what such circumstances might be.
Peter Hogg, UK cities director at consultant Arcadis, said while the ACM cladding deadline was achievable it represented a "significant challenge", not least with the possibility of a no-deal Brexit.
Hogg pointed to supply-side pressures which he said included contractor risk appetite, shortage of labour and, potentially, a dearth of alternative materials and systems.
"In the case of a no-deal Brexit, this latter point could be acute," he said. "Added to these concerns, it's not enough for government to set a deadline and cross their fingers that everyone will meet it.
"We need to see both support to owners of affected buildings and governance to ensure that progress is genuinely being made."
McVey also told Matthew Pennycock, Labour MP for Greenwich – the south-east London borough where a number of privately-owned residential blocks have still not had their cladding replaced – that she wanted "responsible entities" to keep leaseholders and residents fully informed about the status of applications for funding from the government's £200m Private Sector Aluminium Composite Material Cladding Remediation Fund.
Responsible entities – those required to carry out remediation works – "will also be required to inform leaseholders and residents of the nature of the works they intend to carry out, as well as providing regular updates to leaseholders and residents on the progress of their funding application and remediation works", McVey said.
The minister repeated that remediation work needed to be "completed at pace and by June 2020, unless there are exceptional circumstances".
Housing Today has asked the Ministry for Housing, Communities and Local Government for more details on what the exceptional circumstances might be.