Housing ministry reverses on proposal that only very large schemes need provide affordable homes
The government has U-turned on proposals to increase the threshold at which developers have to provide affordable housing on new-build schemes, after claims that the proposal would cause a sharp drop in affordable build rates.
The change of heart has been warmly welcomed by bodies representing the affordable housing sector.
Government planning policy currently states that local authorities can levy contributions via a Section 106 agreement for affordable housing on all "major" housing schemes – defined as those delivering more than 10 homes.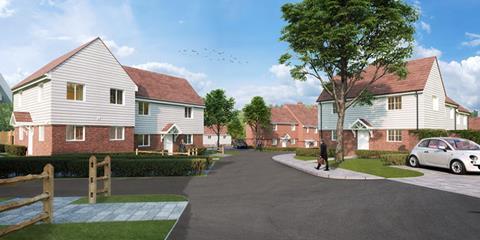 Last August the government said it planned to raise this threshold to either 40 or 50 homes, in order to reduce red tape and improve viability for smaller builders. This would have seen a large number of schemes escaping the obligation to provide affordable housing.
The National Housing Federation said in response that increasing the threshold to that level would reduce the delivery of affordable housing in a typical year by around 5,000 homes.
However, yesterday the government said it had decided against bringing the policy in, implying that the strength of the housing market since the end of last spring's lockdown was a factor in abandoning the previous proposal.
While it did not respond in detail to its own consultation, or summarise the responses it had received, it said: "We have carefully considered the consultation feedback and the situation in the housing market.
"On balance, we do not consider this measure to be necessary at this stage, particularly in light of the broader way in which the sector has responded to the challenges of the pandemic and the other measures we have available to support SMEs. We therefore do not think any change to existing policy is currently needed."
The statement said the government would keep the issue under review, but said there were no plans to raise the threshold "at this stage".
Melanie Rees, head of policy and external affairs at the Chartered Institute of Housing, said the move was "really welcome and very important" given the number of affordable homes – almost half – which came about via obligations in Section 106 agreements.
She said: "This is a vital route to deliver a significant number of affordable homes – about 48 per cent of total affordable homes in 2019-20 came through this route.
"It is particularly important for rural schemes, which are usually smaller and where the inclusion of affordable homes is often a key issue to encourage communities to accept more development."