Kingspan, Arconic and Saint-Gobain have yet to commit money towards repairs
Michael Gove has warned the shareholders of three cladding firms of "severe consequences" if they fail to put forward a comprehensive financial package to help fix unsafe buildings.
The housing secretary has written to investors in Kingspan, Arconic and Saint-Gobain and urged them to use their "position of influence" to encourage the firms to "engage constructively in helping us reach a just resolution for all concerned".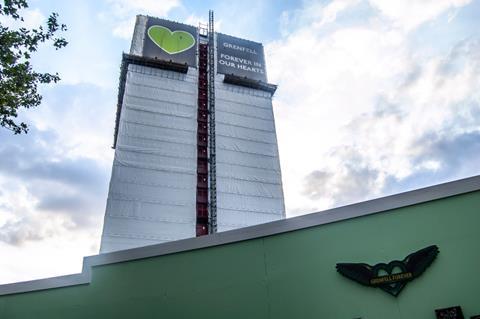 Materials produced by all three firms or their subsidiaries were part of the cladding system installed at Grenfell Tower in west London, which caught fire in 2017 killing 72 people.
The subsequent inquiry into tragedy found the cladding system, installed during a flawed refurbishment, was the primary cause of the spread of flames.
It also emerged that Kingspan had been selling its Kooltherm K15 insulation for nearly 15 years based on a test report of a different product, that Arconic had known for 10 years its cladding panels would burn and that the fire test for RS500 insulation, produced by Saint-Gobain-owned Celotex, had been rigged.
Major shareholders such as Blackrock, Vanguard and Fidelity Management, as well as the central bank of Norway, all received letters from the secretary of state, his officials said.
They were told that if the manufacturers do not come forward with a comprehensive financial package, then the focus of the Department for Levelling Up, Housing and Communities (DLUHC) would be "trained upon them".
Gove said: "It cannot be right that cladding companies continue to profit whilst so many innocent, hardworking people face financial hardship and misery.
"To those cladding companies who fail to do the right thing: you will face severe consequences and I will use all commercial and legal tools available to me to ensure you take responsibility."
Grenfell inquiry latest: How insulation firms covered up fire-safety data
The letters added that there would likely be consequences for shareholders' reputations if the secretary of state was forced to use "the legal and commercial tools available" to ensure the position of the cladding companies "becomes extremely uncomfortable".
Gove wrote to the bosses of Kingspan, Arconic and Saint-Gobain last month inviting them to meet DLUHC officials after Kingspan said publicly it would be willing to pay for remediation where its products had been used inappropriately.
According to the department, while Kingspan have agreed to meet officials, neither they, nor the other two companies, have committed to any new funding.
Last week, Kingspan, Arconic and the Saint-Gobain-owned Celtoex settled civil claims with more than 900 people affected by the deadly blaze at Grenfell Tower in West London.