Housing secretary tells MPs that plan for suburban densification is a 'triple whammy' of good news
Michael Gove has said the government will look to bring in new laws to allow "street votes" that grant permission to residents to radically densify existing suburban streets.
The housing secretary said in the House of Commons yesterday that he was totally supportive of a bill being brought forward by backbench Tory MP John Penrose which was designed to bring the proposal to life.
The bill, which is scheduled for a second reading in parliament on Friday, aims to enact in law proposals from think tank Policy Exchange which will grant street-wide permission to home owners to densify suburban streets where a large majority of residents vote for it. The think tank claims the plan could result in the creation of more than 100,000 extra homes a year for the next 15 years through suburban densification, generating £34bn of construction activity annually.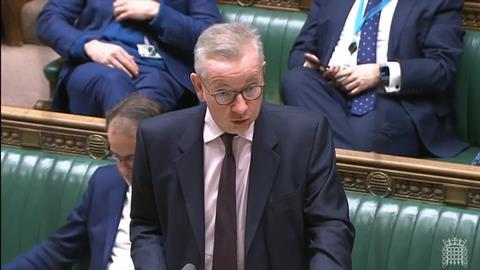 Asked by John Penrose if the government supported his bill, Gove said "It is a cracking private Member's Bill. We shamelessly want to rip off all the ideas in it and take them for our own."
He described the plan as a "triple whammy" of good news and said the government was currently making sure "it meshes with everything else that we want to do that is beneficial."
He added: "It is rare that we have legislation that combines greater democratic control with the potential for the beautification —for want of a better word—of our urban and suburban environment, and also unlocks the potential for the value of individuals' homes to be enhanced by additional development."
Under Policy Exchange's proposals, a plan for densification must be submitted by at least 20% of residents on a street, or a minimum of ten homes, to be put forward for a vote. In order to go through, the plan would have to be supported by at least 60% of voters.
John Penrose's private members' bill, the Planning (Street Plans) Bill, states that "where a street plan is confirmed by a local planning authority, planning permission is granted for development on the specified street in accordance with that street plan."
However, it says the rules governing how the votes operates would be set down in regulations.
Answering MPs' questions in Parliament yesterday, Gove also confirmed he intends to "update" the central formula by which local housing need is calculated in the planning system. Gove indicated that he was minded to do this when questioned by the housing and communities select committee at the start of the month, and reaffirmed this yesterday.
He told MPs: "It is certainly true that the way in which we assess it [housing need] needs to be updated. I think it only fair to say that every part of England—indeed, every part of the United Kingdom—will have to share in making sure that we can meet the housing needs of the next generation, but we are seeking to achieve a fairer and more equitable distribution of need across the country."