Housing secretary wants to hear from material firm's chief executive before Easter
Housing secretary Michael Gove has written to Kingspan asking it to meet him before Easter to discuss how much money the products firm would be prepared to fork out to pay for fire safety remediation.
The five paragraph letter marks the latest phase of Gove's promise to rope in products firms, as well as housebuilders and developers, to pay for repairs on high-rises.
His letter was prompted by a Sunday newspaper report suggesting Kingspan was willing to pay where its products were inappropriately used on buildings.
Kingspan said it had a small amount of its K15 insulation used in Grenfell Tower, which caught fire in 2017 killing 72 people.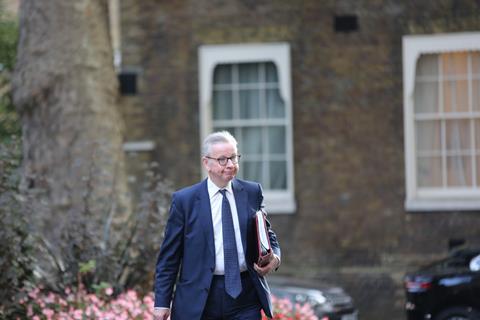 He tweeted: "I have written to cladding firm Kingspan following their claim that they are willing to take financial responsibility for their role in the Grenfell tragedy & building safety crisis. I hope they will urgently meet with my officials to discuss this following their record profits."
His letter, sent to chief executive Gene Murtagh last week, said: "The testimony at the Grenfell Tower inquiry uncovered shameful practices and an abhorrent culture of disregard for the safety of residents in their homes.
"I was appalled by the evidence heard by the enquiry about the reckless and deceptive behaviours within your company."
He added: "I sincerely hope this is a first step only, in what should be a comprehensive package of financial support from Kingspan and other product manufacturers.
"Your record trading profit of £382.8m will, I presume, help to fund this commitment.
"Those companies who do not share our commitment to righting the wrongs of the past must expect to face commercial consequences.
>>See also: Building safety chief aims for 'world-leading' regulation as watchdog launch nears
>>See also: Profit and revenue boost at Kingspan despite £15m loss due to Russia exit
"I look forward to hearing from you before Easter."
In the year to 31 December 2022, Kingspan's revenue increased to €8.3bn (£7.4bn) from €6.5bn (£5.8bn), while pre-tax profit was up 8% to €747m (£664m).
Last year, Gove told manufacturers of cladding and insulation products that they must come forward with a funding commitment to remediate tower blocks.
In a letter to the Construction Products Association, he said: "The total contribution from the cladding and insulation sector must represent a significant portion of the total remediation costs, caused by the dangerous products sold by some of your members. I expect a public funding commitment from your sector."
More than 40 housebuilders and developers have signed up to the government's contract committing them to repair all life-critical fire safety defects on homes they'd built going back 30 years.
What Kingspan has said in response to Gove's letter
Kingspan's products are safe and K15 insulation is safe when installed correctly in appropriate external wall systems. In fact, the recent BSI guidance (PAS 9980), sponsored by the UK Government, supports the retention of K15 in appropriate circumstances.
Kingspan continues to stand by our commitment made in February 2022 to:
pay our share of remediation costs where we have responsibility for the inappropriate use of K15 in a high-rise residential building, and its safe retention cannot be supported by testing.
To contribute to an appropriate joint Government and industrywide funding mechanism such as an industry levy, that is equitable and shared across the entire construction industry, to support the wider fire safety issues on buildings where those responsible can't or won't pay.
We are also committed to constructive dialogue and welcome further engagement with our trade associations and the Department.
Kingspan is not a cladding company. Expert evidence at the Inquiry demonstrates that the Arconic cladding panels on the exterior of the building – which were not made by Kingspan - were the entirely dominant factor in the nature and speed of the spread of the Grenfell Tower fire, not the combustibility of the insulation.
Kingspan did not supply or recommend the use of its K15 insulation on the Grenfell Tower refurbishment, which made up only 5% of the insulation layer purchased for use and was entirely inappropriate for use in a cladding system with a polyethelene-cored ACM.