UCL report says production of homes by councils likely to have doubled in 2 years, despite official figures showing decline
Four out of five councils are now directly engaged in the provision of new build housing, according to new research from UCL, resulting in more than 20,000 last year.
The report by the University, the third in a series on the same subject over the last four years, found that 80% of councils were now involved in housebuilding, up from 65% in 2017 and 69% just two years ago.
The report, authored by Ben Clifford and Janice Morphet found that more than half of authorities, at 55%, now report having their own housing company, up from 42% previously. In addition, the number engaged in JVs designed to provide more housing has soared to 72%, up from 57% in 2019.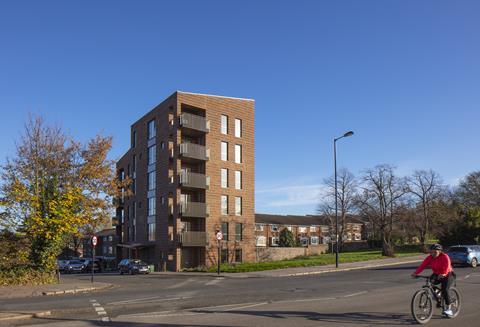 The report found that councils were now commonly engaging in multiple JV arrangements for housing delivery focused on specific sites or locations, whereas previously JVs appear to have been established to find development opportunities across a range of sites.
A direct survey of local authorities undertaken as part of the UCL study indicated that they delivered 20,249 homes last year, up from 8,992 reported in its 2019 report. This increase has come despite the well-publicised issues at some Council-owned housebuilding companies, such as Brick By Brick, which is being wound-up after being blamed for contributing to a financial crisis at Croydon council.
>> See also: What does the future hold for council-owned housing companies?
The findings come after the Greater London Authority last month allocated around 40% of £3.4bn of funding to build new affordable housing to local authorities, setting the London boroughs up to deliver more than 12,000 homes between now and 2026.
This is a huge increase on the previous 2016-21 allocation, where just 5% of the programme went to councils.
However, at the same time Homes England, which administers Affordable Housing Programme cash outside of the capital, gave none of its strategic partnerships allocation to local authorities.
Official housebuilding figures published by the government yesterday claim housing completions by local authorities have actually declined in the last two and half years, after peaking at the end of 2018. The figures said 1,790 homes were built in the last 12 months, down from a peak of nearly 2,700 in 2018.
The UCL report said that is was not possible to exactly work out the number of homes commissioned or co-funded by councils, but that the disparity between the survey and the official figures showed councils were failing to "claim" responsibility for homes they had produced.
The report found "it is clear that failure of councils to 'claim' the homes that are being delivered through their investment including regeneration is leading to a general underreporting of their housing delivery activity to their local communities, the government and the wider commentariat."
In general the research found that councils were making delivery of homes a corporate priority, and that "Councils are increasing their levels of housing delivery in all ways including development, acquisition, regeneration and joint working". It said the pandemic had led to the commissioning of more housing, with MMC being increasingly used.
The report found that the government needed to find a better way of collecting housebuilding data in order to properly credit councils for homes they had produced, and that Homes England needed to provide five-year funding for councils in the same way as is happening in London.