Renewal files application for towers of up to 44-storeys surrounding the "Den" in South east London
Developer Renewal has lodged plans for 3,500 homes in south-east London around Millwall FC's famous football ground, known as The Den.
The hybrid planning application for the Surrey Canal Triangle site surrounding The Den includes detailed plans for 600 homes in three towers rising to 32 storeys.
The Studio Egret West-designed masterplan also contains outline plans for a further 2,900 homes in towers of up to 44 storeys in height, across a further four distinct phases.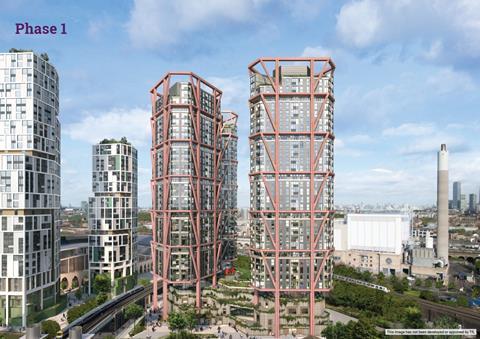 The proposal to put 3,500 homes on the 10-hectare New Bermondsey plot in Lewisham is a big advance on the same developer's previous plans, approved in 2012, for 2,500 homes. These proposals were abandoned amid controversy over the fact the proposals would have seen Millwall evicted from its stadium.
The developer, which owns a large part of the Surrey Canal Triangle, has since agreed with Lewisham council – which owns the freehold to Millwall's stadium – to allow the club to stay, and instead focus its development in the plots around the stadium.
Planning documents filed by Renewal show that it is offering to provide 35% of the 3,500 homes as affordable. Renewal said it intends to be on site with the first phase, subject to planning, by the end of this year. However, it said it projected that all five phases would take around 15 years to build, with completion earmarked for winter 2036.
Renewal said that the development will rely upon construction of a London Overground station at Surrey Canal Road and may require the council to compulsorily purchase sites from smaller landowners who have not so far agreed to sell up to Renewal.