Insurance giant L&G to forward fund 346-home Candleriggs Square tower
Insurance giant L&G has signed a deal with Glasgow developer Drum Property to forward fund a 17-storey build to rent tower in the city, allowing construction of the scheme to go ahead.
The 346-home tower (pictured, below), designed by architect Stallan Brand, is set to form the latest part of Drum Property's £300m Candleriggs Square regeneration scheme, aimed at providing a mix of homes, offices, restaurants and hotels.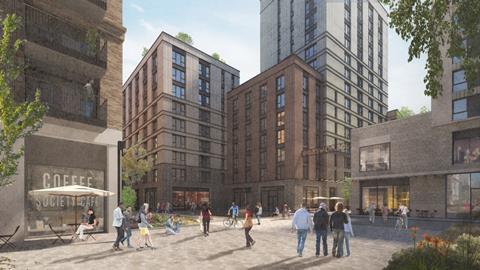 L&G's LGIM Real Assets division has agreed to forward fund the scheme to the tune of £81.5m, securing it for L&G's build to rent fund, which already owns and operates 15 schemes providing 5,000 homes in 11 UK cities. The fund has a number of schemes under construction, including a 1,000-home scheme in Wandsworth and a 200-home scheme in Brighton.
The deal follows a similar one made last year with Drum to forward fund a 324-home tower at the neighbouring Buchanan Wharf development. As well as a mix of homes, the project will provide a dining space, gym, business lounge and games room.
Drum secured approval in principle for the Candleriggs Square development in May this year.
Graeme Bone, managing director of Drum Property Group, said the deal was testament to the "unwavering commitment" the firm had placed in the Candleriggs Square site and Glasgow city centre during the pandemic. ""This will be a huge boost to the area and to local businesses, who are in desperate need of some good news right now. We can now look forward to a once-in-a-generation opportunity to transform a very special area," he said.
Dan Batterton, head of build to rent at LGIM Real Assets, said: "Through our build to rent fund we want to create the best possible experience for renters, providing high-speed digital connectivity, dedicated workspace and exercise facilities, all of which are essential in a post-covid world."