Planners, developers and designers line up against new resi conversion right
Planners, designers and developers have reacted with dismay to the government's decision to push through an expansion of permitted development rights allowing the conversion of high street properties to houses despite vocal opposition.
The Town and Country Planning Association (TCPA) described the move as a disaster for UK high streets, while developer body the British Property Federation (BPF) said the deregulation would do "more harm than good".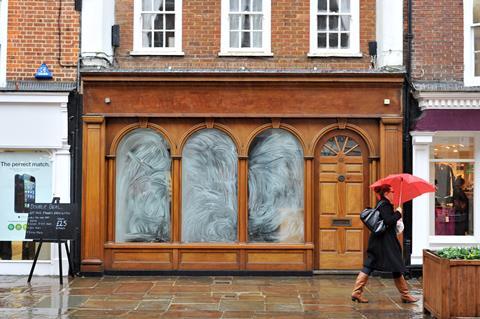 The plans, announced by press release prior to publication of the full detail, will see the vast majority of high street uses, ranging from shops, restaurants, offices, health centres, nurseries and gyms, the right to be converted into housing without requiring planning permission.
The rule will apply to properties in the new Class E Commercial, Business and Services use class, and the only restrictions on the right are that it will be limited to properties under 1,500 sq m in size – ruling out the conversion of large supermarkets and department stores – and that properties must have been empty for three months prior to the change.
Under a fast track "prior approval" process, local authorities will only have a limited set of criteria under which they can turn down applications, including a lack of natural light, the impact on flooding, and the impact on the provision of healthcare services.
Housing secretary Robert Jenrick said today the "business-friendly" plan will "provide the flexibility needed for high streets to bounce back from the pandemic".
The move was welcomed by Jennifer Chappell, real estate counsel at law firm BDB Pitmans, who said it would bring "much needed flexibility for repurposing of property" that would "help the high street bounce back."
However, critics of the policy – who include both bodies representing planners and the development industry – say that high streets will only be able to successfully adapt to the growth of online retail and the harm done by the pandemic if done in a controlled way.
Without this, they argue, replacing businesses with homes will simply break up shop frontages and take away the reasons for people to visit high streets, causing them to fail more quickly.
Sarah Bevan, programme director for planning and development at business lobby group London First, said the right risked "significantly harming the sustainable futures of our high streets and town centres." She said: "Allowing the market to pepper-pot housing on an ad hoc basis in high streets and town centres that are already struggling will break up active frontages and further dilute their vibrancy and commercial success."
Ian Fletcher, director of real estate policy at the BPF, said the deregulation, which the body had lobbied against, was "perturbing". He said: "New residential development can play a vital role in town centre recovery post-covid but poorly-planned PDR homes will do more harm than good.
"If we are to build back better we need responsible development and an holistic approach to a high street's future, which means new homes are planned for. This new PDR will take control away from local authorities at a time when our high street's future depends more than ever on strong local leadership and vision."
Hugh Ellis, policy director at the TCPA said the "extraordinary" move was "pretty much the end of positive planning for town centres", and left elected local authorities without any control over what happens in their most important places. "Housing doesn't create vibrancy in town centres, it destroys footfall," he said. "This is a bad day for democracy and a bad day for the economy, as great town centres which create economic activity and attract visitors don't happen by accident."
He said: "This move risks being a disaster for our high streets, for local democracy and for the future of decent housing."
Victoria Hills, chief executive of the Royal Town Planning Institute, said the rules would "tear at the fabric of local communities." She said: "Since the pandemic our high streets have become much more of a focus for local communities so I am deeply concerned that essential local services such as convenience stores, crèches, pharmacies, solicitors and post offices could be wiped out for good.
"I cannot fathom how the government thinks turning ground floor shops into homes is in any way a good idea."
Architect Alan Jones, president of the Riba, said he was "seriously worried" about the new rules, which he said were "dangerously relaxed", and "fundamentally" contradicted the Government's wider aim of revitalising town centres and developing better homes.
He said: "We urgently need well-designed, mixed use developments that provide long term value for their communities and residents – not a race to the bottom. This is not the answer."
The author of a government-commissioned review of the quality of housing delivered under permitted development rules, Dr Ben Clifford, associate professor in spatial planning at UCL's Bartlett School of Planning, also criticised the move. He told Housing Today that he welcomed some of the concessions in how the scheme will operate compared to the proposal originally consulted on – which had no upper size limit on properties able to take advantage of the right – but that these only slightly mitigated his concerns about it.
He said: "The concession around three months vacancy isn't that significant because this can easily be gamed by building owners, and the concession around nurseries and health care centres is good to see, but just serves to highlight how much wider class E to residential will be than existing PD rights.
He said: "Potential issues around design quality, suitability of location, funding of green and social infrastructure remain. More generally, this will vastly reduce the ability of a local authorities to actually proactively plan – particularly for their town centres – with local plan policies not being able to be implemented. It is hard to see how this will lead to more beauty or how it will help revitalise town centres."