Announcement part of Rishi Sunak's £3bn green jobs fund
Chancellor Rishi Sunak has announced plans for a £50m fund to pilot innovative retrofit projects for social housing, as part of a £3bn fund for green jobs designed to jump-start the post-covid economy.
The announcement comes the day after the chancellor announced a £1.6bn rescue package for the arts and a week after the prime minister announced he would bring forward £5bn for infrastructure projects in his "build, build, build" speech.
The £3bn sum will fund green schemes in a "drive to power up the nation's workforce and protect the environment", according to a statement from the Treasury.
According ot reports, £2bn of the fund will be made available to homeowners as grants of up to £10,000 to make energy efficiency improvements to their homes, such as installing insulation.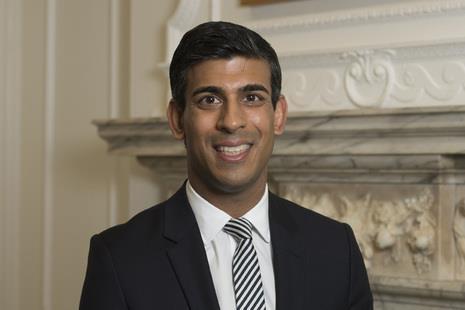 Pledging to "build back greener", the Treasury said it will include a "transformative" £1bn fund to decarbonise public buildings, including schools and hospitals.
The £50m will be earmarked to pilot innovative approaches to retrofitting social housing "at scale" using heat pumps, insulation and double glazing to make social rented homes more energy efficient.
Priority will be given to the least energy efficient social housing in England, with the Treasury claiming the move could reduce annual energy bills for tenants of these homes by around £200.
Another £40m will be given to environmental charities and local authorities as part of a new scheme called the Green Jobs Challenge Fund.
The money will go towards projects to improve the environment in England through planting trees, cleaning up rivers and creating new green spaces, which the Treasury claim could create up to 5,000 new jobs.
Clare Miller, chief executive of the UK's largest housing association, Clarion, welcomed the news. She said: "The more quickly we can access this new funding, the more effectively we can cut heating bills in affordable homes across the country, cut carbon emissions and stimulate employment."
However, Riba president Alan Jones described it as "just the beginning", and Julie Hirigoyen, chief executive of the UK Green Building Council (UKGBC), said it was merely a "welcome first step". She said: "It is essential that the funding announced this week is not just another one-off that creates boom and bust in the energy efficiency industry. This funding needs to be part of a comprehensive plan to improve the whole of the UK's building stock, creating tens of thousands of jobs for the long term, not here-today-gone-tomorrow.
Mathew Riley, managing director of construction constultant Ramboll warned that more was needed to ensure the government met its 2050 net zero target.
He said: "Carbon neutrality needs to be the main consideration for all infrastructure projects going forwards – not just for public and social buildings. If a project cannot prove that it is meeting low carbon criteria, it simply should not be given planning approval."
The measures follow criticism that last week's recovery plan announced by the prime minister did not include enough measures to address UK carbon emissions if the country is to meet its 2050 net zero target. The scheme is due to be detailed further on Wednesday at the chancellor's planned economic statement.