Manchester developer consults on plans for £60m scheme at Stockport's Weir Mill site
Manchester developer Capital & Centric is to redevelop a group of historic industrial mill buildings in Stockport into 250 flats as part of plans being brought forward by the town's new Mayoral Development Corporation.
The firm, which bought the site in May this year, has begun a consultation with local residents about plans for the site, which sits beneath the town's iconic viaduct, in advance of submitting a planning application.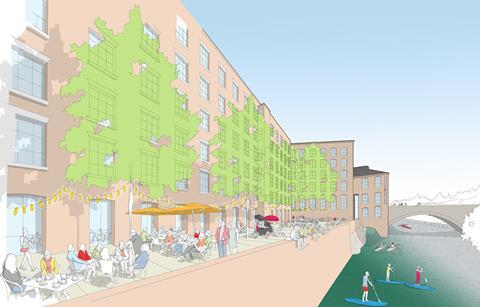 Capital & Centric said it was looking to turn the mill buildings into 250 flats via a £60m scheme which will also include some new build and a new frontage onto the river Mersey with space for café-bars, delis or independent shops, surrounding courtyards and green spaces.
Capital & Centric claims the mill buildings, the earliest of which date from the late 18th century, inspired artist LS Lowry's depictions of industrial landscape. Homes England has pledged £7m to the scheme, which sits next to the site of a planned £120m transport interchange.
Adam Higgins, co-founder of Capital & Centric said the firm was at early stages of its plans, which would entail retaining some of Stockport's "best historic architecture". He said: "Many of the buildings are now in a pretty bad state so we have to find a viable long term use for them or risk losing them forever. Our plan is to create a thriving new town centre community, where incredible places to live sit alongside green spaces and amenities looking out across the river."
Lord Bob Kerslake, chair of the Stockport Mayoral Development Corporation, said: "The redevelopment of Weir Mill will be hugely significant for Stockport's Town Centre West. It has the potential to re-shape the area for decades to come and set a new standard for town centre living. It's vital that we set the bar high and create something that local people can engage with and be proud of."