Proposals by RLW Estates for 4,500 homes will be located next to Urban & Civic's scheme
Plans by a consortium of developers for a 4,500-home new town in Cambridgeshire have been approved by the local council.
The outline plans for Waterbeach New Town East, drawn up by architect LDA Design for RLW Estates, were approved by members on South Cambridgeshire council late last week, allowing the development to progress to detailed designs.
RLW Estates is a consortium made up of Royal London, St John's College, Cambridge, and Cambridge developer Turnstone Estates.
The development is separate to Urban & Civic's 6,500-home Waterbeach new town, which is currently being developed on an adjacent site and which was given planning permission in May 2019.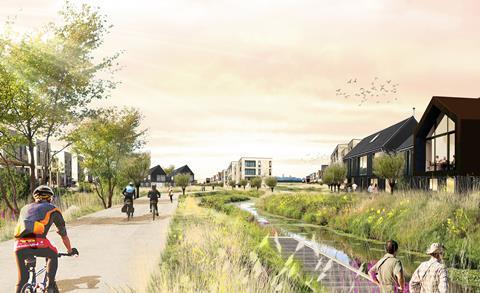 The permission follows the drawing up in 2019 of supplementary planning guidance by South Cambridgeshire supporting the principle of the scheme, which is on land allocated in the local plan.
Plans include 4,500 homes, of which up to 450 may be a residential or care home, with provision for 9,000 sq m of retail and almost 25,000 sq m of offices and light industrial uses. The developer has also proposed building a secondary school and two primary schools along with community facilities.
Planning documents state that RLW is proposing to build out the scheme at a rate of 250 homes a year, with at least 30% of the homes classed as affordable housing.
LDA said its fenland scheme would incorporate car-free streets, linear parks and space for communal dining and food growing, designed to ensure a "more sociable and sustainable" lifestyle for inhabitants.
David Wesselingh, masterplanning lead for Waterbeach New Town East at LDA, said the plan was designed around a series of small neighbourhoods, comprising up to 400 homes. He said: "They will have their own character, landmarks and facilities. They will be fine-grained, nuanced and well-linked, but they will also connect to a bigger landscape and story."