Dominic Schroeder was speaking at the BCO's annual conference in Copenhagen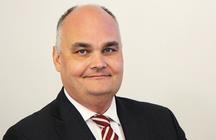 The UK ambassador to Denmark has said that industry, in both the EU and the UK, is craving certainty around the outcome for Brexit.
Speaking to Housing Today's sister title Building at the British Council for Offices' annual conference in Copenhagen last week, Dominic Schroeder (pictured) said what businesses from both the UK and Denmark were looking for first and foremost was clarity.
Schroeder said: "[The ideal outcome] is as orderly a Brexit as possible, and in the context of trade and investment as frictionless as possible.
"It's the uncertainty of what the landscape looks like that is most disconcerting and is affecting potential business, I think."
He said that without a formal plan, reassurance provided from other sources was doing little to quell concerns.
"I can talk a lot about how the UK is an economy and a political system based on a rules-based international system. It's based on values. It's based on predictability. It's based on prosperity and security and flexibility and being global and that that will continue.
"But I accept unless business has absolute clarity over what the landscape looks like a degree of uncertainty will be there."
He said while big businesses were confident they could mitigate most Brexit risks unless they were "catastrophic" uncertainty was still hindering potential business.
Last month immigration minister Caroline Nokes sought to reassure the UK construction industry, saying that contractors would still have access to EU labour even if the UK left the EU without a deal at the end of October – the new departure date outgoing prime minister Theresa May agreed with the EU in the spring.
There was not going to be a "cliff edge" for the availability of EU labour, she said. "It's not like the borders are suddenly going to be shut on the night of the 31 October in the event of a no deal."
Nokes added: "We have to make sure there is still a flow of people and goods and part of that will be putting in transition and temporary arrangements so people can still come here and fill those essential roles."