Housing secretary says government is looking at 'quality requirements'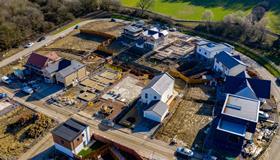 Housebuilders may be forced to sign up to a code of conduct that would mandate a certain quality of build if they want to benefit from the rejigged Help to Buy.
In an interview with The Times, James Brokenshire, the housing secretary, said that the government was looking into "codes of practice" or "quality requirements" that housebuilders would be required to meet to access the revised scheme.
The new-look Help to Buy scheme is set to start in 2021.
Brokenshire said: "The thinking is still developing around this, so I can't give you complete clarity, but there is thought that is being applied as to how we can make this work effectively with the refresh of Help to Buy post-2021 – to ensure that there is that focus, and people will know that there is the right for redress and equally to ensure that we are dealing with some of these quality standards upfront."
Linking the quality standards with the Home Builders Federation's customer service ratings, and establishing an independent rating system are among the possibilities being floated.
Meanwhile, Brokenshire is also set to confirm a £1bn funding boost for Homes England.
The funding is part of a £2bn affordable housing package announced by Theresa May last September, which is being awarded equally to Homes England and the Greater London Authority.
Homes England's 23 strategic partners will be able to bid for grant funding which, if successful, will extend their existing deals from March 2024 to March 2029.
The bidding process requires existing strategic partners to demonstrate how they can achieve ambitious plans to build affordable housing and contribute to the wider new build supply.
The agency said addressing strategic priorities, including the use of brownfield sites for development, engagement with local SME contractors, working with smaller housing associations and the use of modern methods of construction would be key to successful bids.
Sir Edward Lister, chairman of Homes England, said: "The £1bn in additional grant funding will give our strategic partners more flexibility and longer term funding certainty so that they can build the affordable homes their communities need over the next 10 years."
Since July 2018, Homes England has agreed 23 Strategic Partnership deals with 28 housing associations, giving them investment to deliver a range of affordable housing including social rent, supported living and shared ownership homes.
Brokenshire is set to confirm the funding during his speech at the Chartered Institute of Housing conference in Birmingham.