Taylor Wimpey also understood to be poised to temporarily stand down staff in wake of covid-19 shutdown
A number of the biggest UK housebuilders have said they will furlough staff as they fight to stem the damage from the coronavirus pandemic which has shut down much of the industry.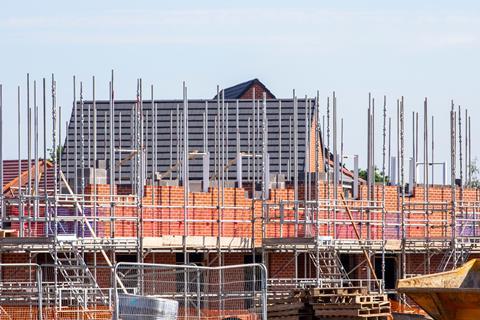 Barratt, Taylor Wimpey, Countryside and Crest Nicholson are all furloughing staff in response to the crisis, following their decisions to shut their construction sites after the imposition of lockdown measures by Boris Johnson on 23 March.
However, the UK's most profitable housebuilder, Persimmon, said it had not furloughed any employees, despite announcing last month it too will shut sites and sales offices.
Until now, only Redrow and Gleeson of the listed housebuilders have said that they are taking advantage of the government's coronavirus job retention scheme, under which the government will pay up to 80% of the wages of "furloughed" workers to allow business to avoid making mass lay-offs. Gleeson said on Monday it is to furlough three quarters of its employees.
Furloughed workers retain their jobs but are not allowed to work for the company during the period of furlough, while their employers can choose to top up their income beyond the 80% paid by the government if desired.
Earlier today estate agent Savills said sites capable of delivering 193,000 homes had been shut down since the prime minister's 23 March announcement.
A spokesperson for the UK's largest housebuilder by volume, Barratt, said the business was furloughing "a large proportion of our employees as we have temporarily closed our sales centres, construction sites and offices". He did not specify how many of the firm's 6,500 employees would be affected, but said they would all have pay topped up "so that they are still paid 100% of their normal income."
A spokesperson for Crest Nicholson said the firm had made no redundancies but had furloughed 74% of its workforce - 629 people - and had "agreed to top up salaries to 100% of current levels until the end of May, and will review then as appropriate."
The spokesperson said: "This is not a decision that was taken lightly, but was necessary in ensuring we safeguard the future of our business. Supporting those who are furloughed and others who are continuing with essential work over the next few months remains our absolute priority, with all Crest Nicholson employees continuing to receive 100% of their base salary."
A spokesperson for Countryside said it, likewise, had not made any redundancies and that it "has furloughed workers all of whom are being paid 100% of salary". The spokesperson did not give any indication as to how many employees were affected.
Taylor Wimpey did not respond to requests for information, however a source close to the housebuilder said the firm will be furloughing a significant number of employees this week "where appropriate". Furloughed staff will receive full pay.
Meanwhile, a spokesperson for Persimmon said that all staff remained on full pay whether working their usual pattern or not, and that the business had "not applied for the government furlough scheme for any employees." However, the spokesperson said that this decision "will be kept under review."
Bellway, Vistry and McCarthy & Stone did not immediately respond to requests to comment on the issue, while Berkeley Group said it would not be commenting.