UK's largest housebuilder to pay £250m for firm with 100,000-plot pipeline
Housebuilder Barratt has bought the UK's best-known land trading firm, Gladman Developments, in a deal worth £250m.
The UK's largest housebuilder said in a statement the deal would allow it to combine its operations with Gladman's "excellent land sourcing and promotion capabilities, […] significantly enhancing Barratt's strategic land credentials."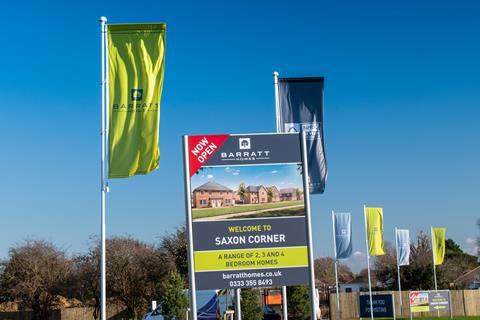 Gladman, which made a pre-tax profit of £6.9m on turnover of £29.9m in the covid-hit year to March 2021, has gained a reputation over the last decade for its aggressive promotion of housebuilding sites, often winning permissions on appeal against local authorities.
This last financial year saw it secure planning consent for 2,760 plots across 15 sites and sell 2,796 plots on 18 sites to housebuilders and housing associations. The firm owns almost 100,000 plots across 406 potential sites, and Barratt said this will deliver an additional 500 home completions per annum for it from 2025 onwards.
The £4.8bn turnover housebuilder said Gladman a particular strength in south of England, and had generated an average annual pre-tax profit of £18.9m in the three years to March 2019, on average sales of £52.5m.
The acquisition, which went through today, sees Barratt pick up the firm on a debt-free and cash-free basis. The terms of the deal will allow it to hold back £12.2m of the cost which would have gone to Gladman shareholders who work for the business, pending their conduct over the next four years.
>> See also: Housing Today's Top 35 housebuidlers: exclusive data and analysis
Steven Boyes, chief operating officer and deputy chief executive at Barratt, said: "Gladman's strong credentials in identifying attractive land and promoting sites through the planning process will be an important addition to the Group.
"Today's acquisition of a long-standing and trusted partner will further strengthen our ability to deliver our medium-term target to build 20,000 high quality homes per year."
Victoria Hesson, chief executive at Gladman Developments, said that by becoming part of Barratt, Gladman could "accelerate our growth as the UK's leading land promoter".