Group of housing designers call on government to rethink "combustibles ban" so it allows use of structural timber
A group of architects are campaigning for the government to rethink plans to ban all combustible material in the external walls of buildings over 11 metres because of the impact on the uptake of structural timber by the residential sector.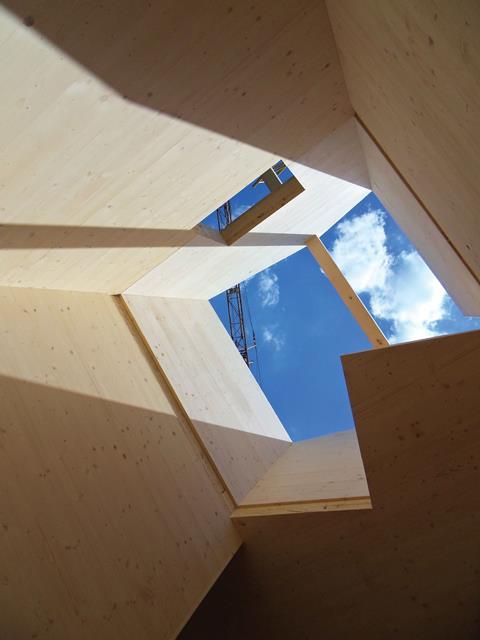 The group, the Architects Climate Action Network (Acan), says the extension to the combustibles ban, which was brought in in the wake of the Grenfell Tower disaster, risks jeopardising the government's ability to meet its commitment to reach net zero carbon by 2050.
The lobby group says that it is strongly in favour of a ban on combustible cladding materials, but that this can be achieved without simultaneously banning the use of structural timber materials such as Cross Laminated Timber (CLT), which it says is much more sustainable than traditional build.
Signatories to the campaign include individuals from architect and consultant firms Atkins, dRMM, BDP and Waugh Thistleton.
Since the government brought in its ban on the use of combustible materials in the external walls of buildings over 18 metres, a number of developers, including Lendlease, Swan and L&G, have moved away from the use of CLT for high rise housing.
In January the government proposed hugely extending the reach of the ban by proposing it cover all buildings above 11m, typically anything more than three storeys in height.
Acan, which is working with the Timber Trade Federation, says that materials such as CLT, while technically combustible, perform well in fires and that it is possible to ban combustible cladding such as used at Grenfell without banning all combustible materials within the external structure of buildings.
In a letter outlining its campaign, Acan called on the government to "focus the ban on combustible cladding as distinct from external walls. This will help provide the clarity needed for designers and specifiers to build better and safer.
Referencing a report by the All-Party Parliamentary Group for the timber industries published in November, the letter says the use of timber, which is carbon netural and highly insulating, will be vital to allow the UK to deliver on the government net zero carbon commitment. It says: "Without using safe structural timber we cannot meet these targets and we will fail to address the construction industry's contribution to climate change.
"Whilst other countries are passing legislation to promote the use of timber in construction, in the UK we now face a ban on its use in residential buildings over 3 storeys."
The group is calling for consultants, developers and contractors working in the industry to lobby their MPs on the issue, in advance of the closure of the government's consultation on its plans next month.
Launched in January, the consultation was originally due to have closed yesterday, but the government last week extended it to May 25th because of the disruption caused by the covid-19 crisis.