According to the manufacturer, the award winning Mixergy iHP delivers hot water 10X faster than rival systems on the market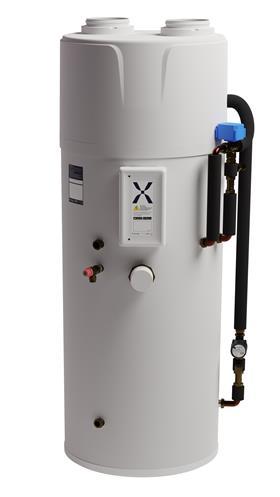 The Mixergy iHP is said to be a game-changer for housing developers and homeowners who seek the low carbon benefits of an integrated heat pump cylinder, but also require the convenience of fast hot water.
To date, integrated heat pump cylinders have typically been large and slow.
Mixergy's patented Stratos technology, a modular heat pump which heats water from the top down, is said to provide usable hot water in under 30 minutes.
The new cylinder is integrated with smart technology, including smart tariff use and machine learning, allowing the user to optimise their energy use and save on their carbon footprint.
The Mixergy iHP also benefits from being up to a third smaller than some rival systems on the market and, because the heat pump can be detached from the cylinder, it is easier to transport, fit and maintain.
The product also features Mixergy's Stratos heat pump head unit which, according to the team, reduces energy consumption by two thirds whilst offering a longer life through improved serviceability.
This makes the product not only an option for first-time installations but also for retrofitting projects where the goal is to reduce the carbon impact of the structure.
Sold with a 25-year warranty on the cylinder, the integrated heat pump cylinder could be a viable option to support the nation's housing stock reach net zero.
Pete Armstrong, chief executive officer at Mixergy, says: "The iHP delivers hot water ten times faster within a product designed to last four times longer than alternative systems on the market. Combining Mixergy's 'heat what you need' approach to hot water storage alongside the capability of our state of charge sensor, connectivity and machine learning, the iHP is future proofed to make the most of renewable energy whether it comes from rooftop solar PV or flexible tariffs connected to offshore wind."
Mixergy is a spin out from the University of Oxford which develops connected hot water cylinders alongside heating and home energy management systems in a bid to enable households to save money and reduce their impact on the environment.