Mike White, chief technology officer at Zutec, answers key questions around software to support compliance
As part of Digital Building Week, Housing Today recently hosted an excellent webinar - Navigating Part L and net zero regulation.
For firms working in the design, construction and housing sectors it is imperative to explore what digital and technological levers can be used to best implement the new regulatory requirements designed to address net zero.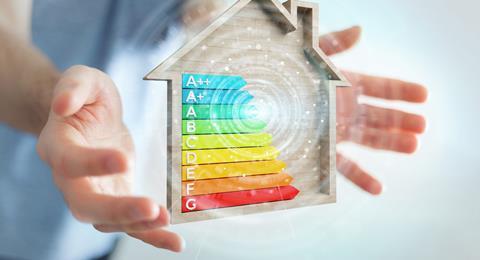 We were delighted to participate and present the case for digital adoption to successfully navigate Part L, specifically the requirement to capture, categorise, store and share photographic evidence.
At the webinar we received a lot of questions, some of which we ran out of time to answer live.
In this article we will address these by exploring the technological and digital innovations that will help meet net zero requirements and the potential barriers to the implementation of these solutions and how they can be overcome.
Why do I need to buy software to meet this requirement? Our site team take photos on their devises already, which we file on Sharepoint.
The requirement specifically asks for geolocated and time stamped photos – this is difficult to manage across multiple sites with site managers using multiple devises.
With a dedicated solution you will benefit from an audit trail and a report dashboard to help you easily identify issues and bottlenecks, before they escalate. Our housebuilder clients are treating this as mission critical, given the significant risk to their ability to complete units if they get this wrong. The vast majority are implementing dedicated software solutions to control this process.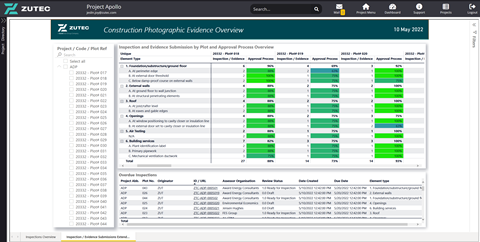 Can't my existing quality management solution be reworked for Part L?
Possibly, but is it optimised for Part L compliance? A dedicated out-the-box solution will include a pre-configured template that aligns with the data structure of the BREL report, giving you the best chance of success, first time round. At Zutec, we are entirely focussed on the residential market, bringing sector-specific knowledge to help support our clients through the roll-out of the solution. The Zutec platform is a configurable, fully integrated Cloud and Field application designed to accommodate future changes as business demand grows and evolves.
How do we know Zutec's template is good enough to meet the uplifted requirements?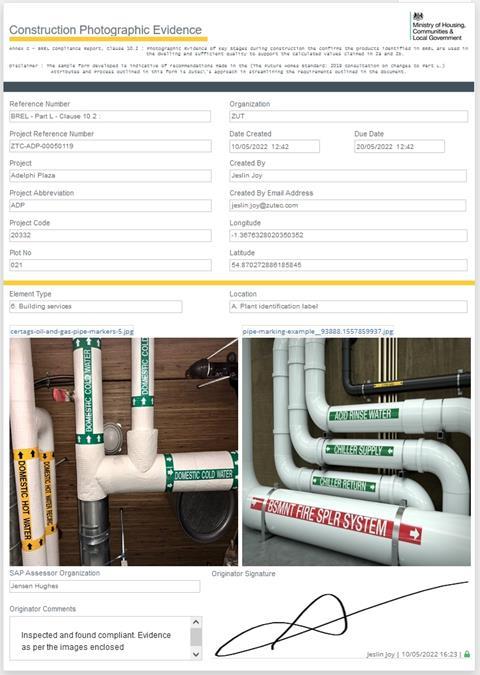 Good question. This is new legislation so no one in the industry knows for sure what exactly will be required.
However, we are confident our template is a solid start point, given it was designed alongside leading Housebuilder clients and has been "battle tested" with members of the SAP Assessor community.
You have the option to include the SAP Assessor in a workflow, so they're automatically sent any photos you choose to release, giving you a mechanism to track the status of each photo through the approval process. Any template needs to be simple to use and flexible as the industry develops its response to the legislation.
How can I give access to the photos if a purchaser requests them?
Zutec enables this to be done simply by exporting a consolidated set of photos per plot. You just need to ensure the Plot information is captured in the metadata and the platform does the rest. Our general advice is that you make this available to your purchasers on request to give the new process time to bed in.
Don't settle for sufficient – get the platform that protects your time and investment
Housebuilders and developers are pushing Part L compliance to the top of their priorities for good reason. A failed SAP assessment means – in the simplest terms – project delays, remediation and additional costs. A successful EPC and BREL report hinge on clear delivery of auditable data.
By providing a user-friendly platform for that data, you give your team the ability to trace all aspects of your project and avoid costly rework. Zutec's dashboard displays all plot data, empowering everyone to keep track of the project. You can report across multiple projects and regions. It gives you the flexibility to report down to individual plots – or a collective progress across every single one of your builds.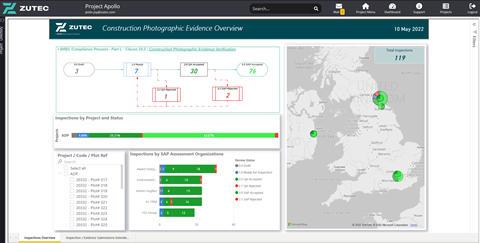 With full implementation and training to ensure adoption is rapid, your work toward project completion won't be hampered with chasing up the supply chain for data or even worse – inadequate photographic evidence.
Get a platform built for purpose – handle your data securely, share it quickly and display it clearly.
For more information on Zutec's Part L solution, watch the webinar, download the whitepaper, or reach out at contact@zutec.com.