The cost of living has been a concern on most of our minds recently, and the complexities of keeping our homes warm has become much harder for many of us.
So, what exactly does the future look like? Is there a truly sustainable way to work with sudden temperature drops and climate change that keeps our homes, and families, comfortable at the same time?
Reality could hit us as soon as 2050, with average UK summer temperatures hitting an astounding 40 degrees. Extreme heat waves could even take areas of the country up to 50 degrees. The houses we build today need to face up to the challenges of tomorrow.
This is where Energy House 2.0 and eHome2 comes into play – the concept build has high hopes of delivering the answers we need, thanks to a unique partnership from three industry leaders in their fields.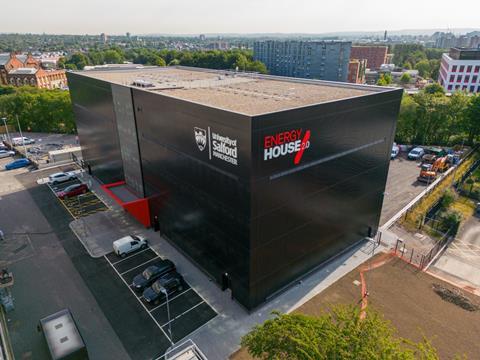 Saint-Gobain UK & Ireland and housebuilder Barratt Developments have formed a collaborative partnership with Salford University to explore the future of net zero home-building. Together, they've created eHome2, which exists inside the walls of Energy House 2.0 – a progressive climatic chamber facility located at Salford University.
The innovative concept of eHome2 exists as a three-bed family home that will undergo extensive testing in the coming months – its ability to cope with extreme temperatures and climate change will be put to the test, as well as factors including thermal performance, energy efficiency, running costs – and how comfortable the home is to live in.
The home has been created using sustainable building materials, with a focus on off-site solutions, helping to bring the project together efficiently. When testing gets underway next month, it will explore just how far sustainable housing could go, and what improvements could be made to our future homes.
MiTek's Posi-Joist cassettes are an essential part of the home's design which focuses on sustainability and accelerating us towards low carbon and net zero housing
It has been built to exceed Future Home Standards requirements, and designed to accommodate more heating, ventilation, and renewable energy services than houses built today. So, the design accommodates much more than the current modern home.
Space is an imperative part of making eHome2 a success. The use of Posi-Joist floor cassettes produced by Pasquill, (part of Saint-Gobain Off-site Solutions) as a timber frame construction, meant the much-needed extra space was quickly found, whilst simultaneously adding to the overall sustainability credentials of the build. The results proved to be effective – enabling the routeing of multiple utilities throughout the house's flooring.
The use of Posi-Joist allows the use of Mechanical Ventilation and Heat Recovery systems throughout the home, while the top-hung Posi-Joist floor cassettes also speeds up the process of installation and reduces the thermal bridging at wall-floor interfaces.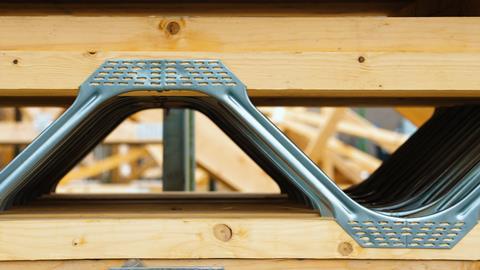 Pasquill also supplied the Roof Trusses for eHome2 to help create a thermally efficient attic space. Combining traditional Trusses with Attic Trusses creates a space that can also house additional services and pipework required to run our future homes. Both the Posi-Joist cassettes and roof-attic truss systems added to the pre-manufactured value and were designed by MiTek's PAMIR software and hardware.
"When working with the Barratt design team on the project, designers chose to use the Posi-Joist cassette system to allow for easy routeing of utilities, which are required for future homes design," said Tom Cox, Technical and Development Director at Saint Gobain Off-Site Solutions.
"It's our aim to help national housebuilders and other volume housing providers to find a way of delivering zero-carbon homes of the future at scale and speed. The project is a brilliant showcase of how off-site manufacturing can help achieve this, with innovative solutions driven by sustainability and performance that can help make the world a better home," added Cox.
Posi-Joist has the potential to play a big role in making future homes more sustainable. With its unique ability to repurpose floor joist space, it can help accommodate modern technology that accelerates us towards the future. The open web design allows routeing through floor and roof spaces, giving homes more flexibility to incorporate a wide array of different utilities.
At MiTek, we're excited to see the test results and what the future of housing in the UK might look like. Can eHome2 completely change the way we produce homes at a larger scale? Perhaps we will be living in carbon zero homes sooner than we think!