James Francis, product manager at ROCKWOOL®, explains why housebuilders need to think differently about insulation
Historically, choosing insulation has, broadly, been a box-ticking exercise; select the product that meets the required U-value and move on with the development.
However, selecting a product based solely on a single metric such as its thermal conductivity can overlook aspects such as speed and quality of installation, and in-situ and ongoing performance.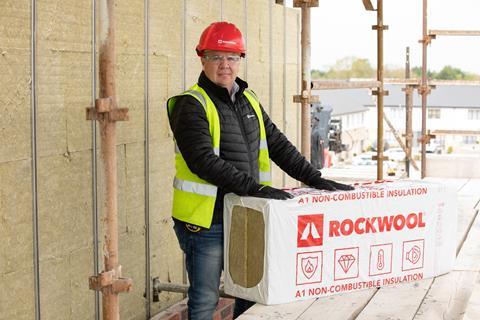 Thermal continuity
A tight, continuous fit is best practice for thermal performance, but depending on the type of insulation used, it can require additional cutting on-site and/or taping at board joints with foil tape, equating to extra time on a project.
Highly pliable stone wool insulation, however, is simple to closely friction fit without time-consuming levels of precision cutting when on site. As well as minimising the margin for error, it also supports reliable and effective thermal performance that reduces thermal bridging. Further, the flexibility of stone wool allows for easier installation at the abutments between insulation boards, another area prone to thermal leakage.
Plus, its composition means individual slabs knit together to create a seamless fit, and its workable nature supports the delivery of designed U-values.
Performance in-use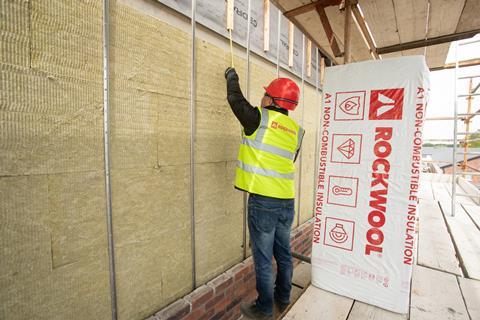 Longevity is a further area where it pays to look beyond just thermal conductivity. For insulation to be effective – and remain so – dimensional stability is vital as the air pockets within it help prevent heat transfer. Insulation that squashes and sags over time affects these energy-saving capabilities.
To prevent this, it's essential to choose a product that's going to keep its strength and, in turn, its thermal performance. Again, stone wool is ideal for this as it maintains its shape and density over time. In tests on materials from real-life construction sites, it has been shown to retain its insulating properties for more than 65 years1 without a drop in performance. Plus, because of its high-density semi-rigid composition, it will not slump in the cavity.
Stone wool in action
Putting the latest innovation in stone wool insulation into reality, contractor Hugh McGreevy & Sons Ltd is currently developing 100 new homes in Adamstown, Co. Dublin, Ireland using NyRock® Cavity Slab 032, a new external wall cavity insulation slab from ROCKWOOL.
Hugh McGreevy takes pride in delivering energy-efficient homes, constructing to Building Energy Rating (BER) A rating, and to a quality that stands the test of time. The homes, designed by Hugh McGreevy's in-house team, were planned with a masonry cavity wall construction and a preference for stone wool insulation due to its non-combustible properties.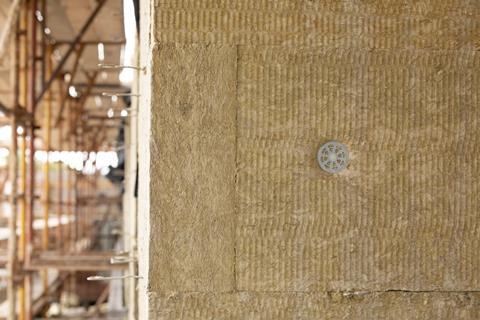 Working with the developer, ROCKWOOL conducted all U-value calculations for the project. These demonstrated that NyRock Cavity Slab 032 would achieve the target U-value of 0.18 W/m2K within the 200mm cavity space. This led to the specification of 14,000 square metres of 160mm NyRock Cavity Slab 032 in a partial fill application. To satisfy fire regulations in cavity applications, 9,000 metres of ROCKWOOL TCB Cavity Barrier was also specified.
In addition to its combined thermal and fire performance, the high-density semi-rigid composition of NyRock Cavity Slab 032, is proven to perform for the lifetime of the building, supporting Hugh McGreevy & Sons' focus on quality and longevity.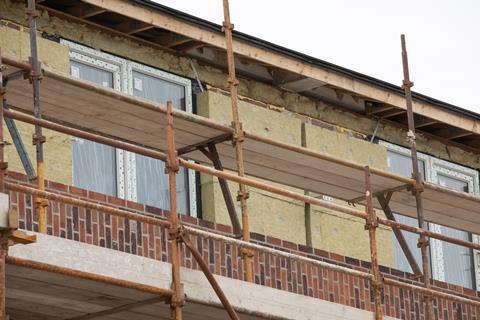 "ROCKWOOL was our first choice for non-combustible insulation due to their reputation in the market and our experience with their stone wool products on previous projects," says Hugh McGreevy, director of the company. "NyRock Cavity Slab 032 has enabled us to achieve the same U-values using less material, which was an additional bonus."
"Our installers found NyRock Cavity Slab 032 very easy to install," continues McGreevy. "ROCKWOOL NyRock Cavity Slab 032 also has BBA certification, is easy to source, and has an experienced technical team able to answer any questions very quickly. This ultimately made it easy for us to adopt NyRock for this development."
[1] Testing done at Danish Technical Institute (DTI) in 2023
[2] BBA Certification 22/6252: stated as sufficiently stable to remain effective as insulation for the life of the building.