Build to rent developer working to offset delays to student housing scheme
Build to rent developer Watkin Jones has said most of its UK construction sites are now operating at 75% of normal capacity, following the restarting of work after the coronavirus lockdown.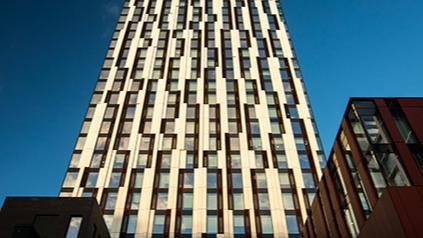 Announcing half year results, the firm said it expected to be able to complete six out of the seven student housing schemes it is scheduled to build in time for the autumn term, and that it had bought two further sites for build to rent developments, totalling 888 flats in Bath and Birmingham.
Watkin Jones said it had now reopened all of its construction sites in England, Wales and Northern Ireland, and that they were "operating at c.75% of pre covid-19 resource levels". The impact on the cost of delivering committed work would be "modest", it said. However, it said that sites in Scotland remained shut, given the Scottish government's continued ban on non-essential construction work.
Reporting results showing pre tax profit for the six months to the end of March up by 19% to £26.6m, on turnover up 17% to £186m, the firm said its final results for the year would largely rest on whether it managed to complete its planned student housing schemes.
Watkin Jones, which withdrew all financial guidance in the wake of the covid-19 lockdown, said it was making "encouraging" progress on the seven student housing schemes, due to deliver 2,069 beds. It said that the one scheme likely to be delayed was now targeted to be complete by the fourth quarter of the year. It said: "The outcome for the residual scheme is being discussed with the purchaser, with options including accelerated work and phased delivery being considered."
The developer also revealed it is likely to make a £12-15m provision in its end of year accounts for the cost of replacing unsafe HPL cladding on a number of its buildings, "despite not being legally liable".
Richard Simpson, chief executive of Watkin Jones, said the results were "strong." He said: "We have responded carefully and cautiously to the challenges presented by the covid-19 pandemic and subsequent lock-down.
"Primarily, we have focused on ensuring the health and safety of employees, tenants and other stakeholders, with development sites initially being closed to all non-essential work. Gradually, we have been able to reopen most of them, to the extent allowed under social distancing and government rules."